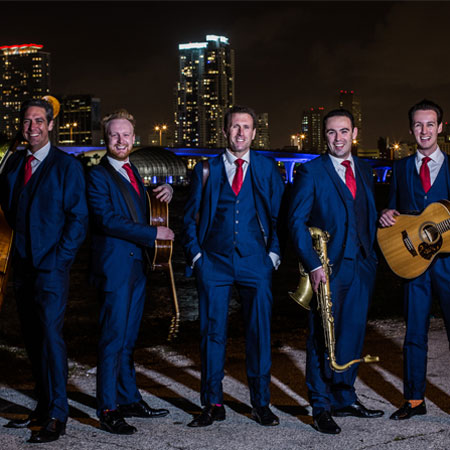 The London Essentials
A fantastically fun acoustic band offering unique roving entertainment
Amazing five-part harmonies & world-class musicianship will amaze audiences
Repertoire ranges from Rat Pack Swing, to 80's classic to current Top 40 hits!
Perfect for VIP weddings & private parties, corporate events & much more
Based in the UK & available to book to perform at events worldwide
The London Essentials PHOTOS
The London Essentials is a collective of five roving musicians offering a genuine acoustic musical experience!
Seeing music as a way of breaking down barriers, this unique five-piece aim to give highly creative and fun performances that bring their audience together in a memorable shared experience. Combining all their individual skills of showmanship and spontaneity, each of their performances are utterly unique; you never know what might happen and the only thing you can be sure of is that it will be of the highest quality!
Requiring no amplification or stage, our acoustic band prefer instead to mingle with their audience - serenading, flattering, surprising, and seducing their listeners as they go. Performing from a repertoire that ranges from Rat Pack swing, to 80's classics, to Top 40 hits, they give decades worth of music an injection of their vibrant fun-loving personalities.
One of the best live lounge bands you will ever have the good fortune to see live, our acoustic band's unique instrumentation and amazing five-part vocal harmonies and tied together in a riotous performance that is guaranteed to create a lively atmosphere at your next event.
Having performed at Holly Branson's wedding on Necker Island, for K.P. Singh on a flaring palace win Udaipur, for the British Royals in London and for some of Europe's biggest companies, our amazing walkaround band are the perfect choice to book for VIP parties and weddings, and high-end corporate events.
Top Tip
Highly professional, experienced and in high-demand, our roving musicians are more than happy to create a tailor-made performance to suit your specific event. Get in touch with one of our entertainment specialists to find out more.