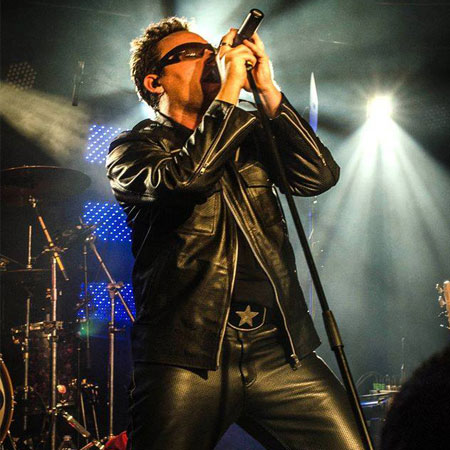 U2 Tribute California
A tribute who has faithfully crafted an amazingly accurate show
So realistic it will overwhelm your senses of sight and sound
Committed to capturing the authentic sound, energy and passion of U2
Front man Jason is available as a Bono Impersonator for meet & greets
Based in California & available to perform at events worldwide
U2 Tribute California PHOTOS
Branded as, "The World's greatest tribute to U2" this Californian based tribute band accurately execute the music and looks of a real U2 concert with ease.
Lead by the incomparable front man Jason performing as Bono, this quartet has left no stone unturned to deliver the most accurate Tribute to U2, the greatest rock and roll band of its generation! Along with his talented guitarist, bassist and drummer, Jason provides the heart, soul and attention to detail that makes this U2 Tribute Band unrivaled, except perhaps by U2 themselves.
With extensive experience playing to any size audience with precise expertise, it will be hard to believe that this professional and extremely talented tribute band isn't the real deal.
All passionate U2 fans, the foursome are committed to capturing an authentic sound and performing with the same energy and passion as U2. In addition to live performances, front man Jason is also available as a Bono Impersonator for 'Meet & Greet' functions.
" The crowd was jumping and dancing all night to the classic U2 songs that we all grew up with. We definitely will be booking them for our future concert series coming up next year. The guys were a pleasure to work with at all times and definitely made my first time of promoting a concert a great experience. I also loved that the band came into our VIP area and greeted my special guests with a smile and stayed around for another 30 minutes after the show. I can't wait for next year. "

Brian Penny, Tustin Ranch Golf Club
" We wanted to do something special for our associates and their families so we had U2 Tribute California play an after-work concert in our parking lot. The band was great – easy to work with, looked and sounded just like U2, just great guys. They did whatever it took to make sure everyone had a good time and appreciated what we were doing for them. We had a ball! "

Ty Bobit, Bobit Business Media, Torrance, California
" It may seem a little presumptuous to call yourself "The World's Greatest Tribute to U2" but they live up to the claim and then some. This is quite possibly the best tribute band out there.The music is spot-on, the performance is dazzling and you have to constantly remind yourself you're not watching Bono, the Edge and the rest. Simply superb. Marquee 15 will have this band soon and often!!!! "

Ben Valenty, Marquee 15, Corona, California
" he greatest U2 musical experience we have had here in Guadalajara, Mexico. The first time was in our video-bar and live music place named: Leyendas del Rock Video-Bar. The group literally took over the place, performing for about three hours each night. It was so real, that I heard some people say "don't fool me... they are U2" . It is amazing seeing the group connecting with the audience so well. "

Leyendas Del Rock Video Bar & 1er Festival Leyendas Del Rock - Guadalajara, Mexico