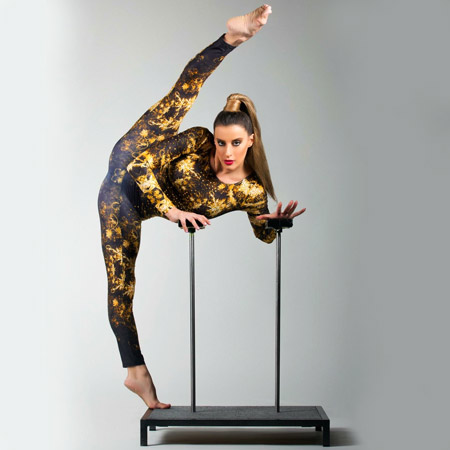 Dubai Female Hand Balancing Act
Visually captivating female hand balancing act with stunning contortions
Very customisable act to suit event type, themes or client preferences
Performed by a multi-skilled former Olympic gymnast
Booked for everything from nightclubs to corporate events
Currently based in Dubai and available for events throughout the UAE
Dubai Female Hand Balancing Act PHOTOS
Our stunning Dubai Female Hand Balancing Act will transform your event into a memorable experience with a visually captivating spectacle guaranteed to leave a long-lasting impression. The very experienced multi-disciplined female acrobat has been delivering these high impact performances for everything from nightclubs to corporate events and making a name for herself throughout the Middle East. 
Using a combination of outstanding strength, flexibility and technical breathtaking hand balance skills, our female acrobat is able to create amazing performances that can be tailored to events types or clients requirements. The hand balance acrobat uses a pair of hand balancing canes that can either be placed on a small podium or on the stage as a central focal point for your event. With stage shows, she is able to incorporate more floor-based contortions and acrobatics.
The Dubai Female Hand Balancing Act can be tailored to any event. Whether you're looking for an ambient acrobatic display or a stunning stage performance, our hand balance acrobat is able to choreograph a special show. The very talented female acrobat has many years experienced in the industry and understands the need for customisation. Therefore she has a wide range of fantastic costumes to choose from as well as options for new ones to be made for the event. 
Originally from Italy, our Dubai Female Hand Balancing Act is performed by a former Olympic Gymnast who competed for the Italian National Team. Since her days as an Olympian, she has developed into a multi-disciplined female acrobat working at events in Europe, South America, Australia and the Middle East. 
If you would like to book the Dubai Female Hand Balancing Act, please contact us at Scarlett Entertainment.