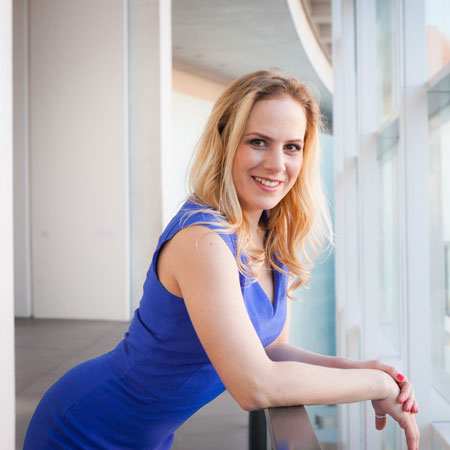 German Event Presenter Stefanie
Highly experienced corporate event presenter will ensure your event runs smoothly and efficiently
Our event moderator is sure to charm guests with her sparkling personality and energy
A multilingual presenter, she can speak fluently in German and English as well as good French and Spanish
Our German Event Presenter Stefanie is a fantastic choice for trade fairs corporate events, galas, radio and TV
Based in Nuremberg, Germany, our event host is available for international bookings
German Event Presenter Stefanie PHOTOS
A fantastic choice for your next corporate event, our highly talented German Event Speaker Stefanie is sure to charm audiences with her sparkling personality and energy. 
Incredibly engaging, our event host's dynamic presenting style will ensure the attention of your audience is captured throughout your event. 
An experienced event host and event moderator, our multilingual presenter is refreshing and lively. Able to adapt her style to fun and casual, or serious and formal, she will take your event into consideration to strike the perfect atmosphere. Spontaneous, authentic and passionate about your brand or cause, our corporate event presenter is sure to land your message with impact.
Also available as a speaker, our multilingual speaker can give lectures at conferences, meetings, summits and conventions. Able to find just the right words for your topic, our event host can write and present bespoke lectures tailored to your event.
Fluent in German and English, and able to speak good French and Spanish, she is the perfect choice for a range of international events.
With years of experience hosting and presenting at countless events including the IFA 2018 in Berlin, Rock in the Park, Business France, and for brands such as Mercedes Benz, Opal, Red Bull and more.
Scarlett Entertainment offers a huge range of event hosts and corporate event presenters for events across Europe, the US, Middle East, Asia and beyond. Discover our incredible roster of international event moderators, speakers and multilingual presenters ready to engage guests and host your event.
To book our German Event Speaker Stefanie for your next trade fair, corporate event, gala, or for TV and radio, get in touch with our team of Entertainment Experts who'll be happy to help you with any of your event hosting queries.