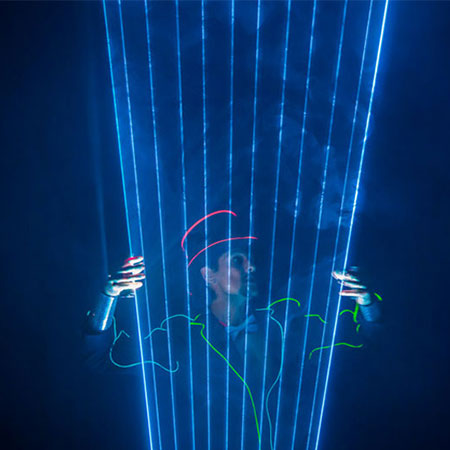 Laser Dance Germany
Made from a three-dimensional play of light, this exciting laser beam act will wow guests
A truly magical illusion, our dancing laser artist manipulates coloured beams of light
Immerse guests in futuristic laser entertainment
Perfect for high-impact finales, epic opening ceremonies, high-tech events, club nights, product launches and more
Based in Berlin, Germany, this laser show is available for international bookings
Laser Dance Germany PHOTOS
Book Laser Dance Germany for a truly immersive laser beam act that will blow audiences away. 
Made from a three-dimensional play of coloured light and laser beams, our talented dancing laser artist manipulates beams of lights choreographed to rousing music for a visually stunning laser show.
Bathing the stage in the glow from columns of light, our dancing laser artist delivers a stunning spectacle as he bends, slices and fans laser beams with his hands. 
With the drama of total blackout, our laser show artist creates a high-impact performance as he emerges from the darkness. With a strong yet graceful ease, he creates a truly magical illusion of 3D shapes that blaze with an intense luminosity on stage. 
This fantastic futuristic laser entertainment would suit any high-tech event or brand looking to blow audiences away with an exciting blend of technology, light and dance. 
Ask our professional laser show performer to create tailored choreography to tell your brand story, launch a brand new product, or create hype for employees at a large-scale conference. With the ability to incorporate brand colours to his laser beam act and costume, our Laser Dance Germany is ideal for any corporate event. 
Trained in classical ballet, jazz and modern dance, our talented dancing laser artist will take guests on a journey through innovation with this futuristic laser entertainment. 
Having performed at gala events, trade shows, product launches and more for the likes of L'Oreal, Adidas, Porsche, German Opera Berlin, Nike, and GDS Düsseldorf among others, this powerful laser beam act is sure to impress. 
Check out our roster of UV Glow, LED and Laser performers for further unique stage show inspiration.
To book our sensational Laser Dance Germany, get in touch with our team of Entertainment Experts.