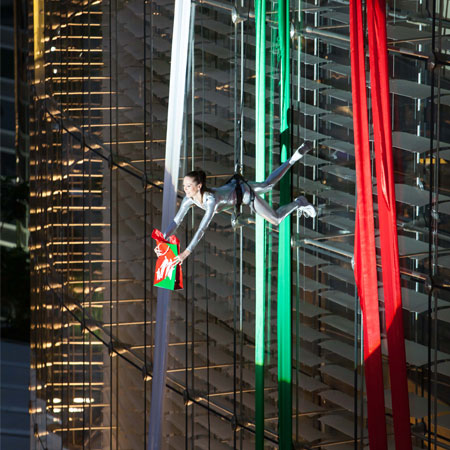 Vertical Fashion Show
Specially trained dancers give a thrilling vertical show 20meters up!
An impressive format for advertising, brand and company promotion
Audience members get the chance to prove their vertical skills…
Perfect for corporate events, opening ceremonies and more
Based in Munich and available to perform at events worldwide
Vertical Fashion Show PHOTOS
This aerial act offers a unique and attention-grabbing way to advertise products, promote brands and company messages ensuring that your company is in the spotlight.
Taking the catwalk and turning it 90 degrees, specially trained dancers perform a perfectly choreographed show of vertical acrobatics on the facade of almost any building. On the highest stage that you and your guests will have ever seen, six dancers and models showcase a range of bespoke outfits with a backdrop of choice - be it a specific design or logo, message or colours.
Between shows there is the opportunity for members of the audience take to the air and demonstrate their vertical skills! Guaranteeing a memorable show, unforgettable moments and a stiff neck this performance will take your event to the lofty heights of success!
Let your next event reach for the skies and explore more fo our Site Specific and Building Walkers.
To book our Vertical Fashion Show or for more information, contact our Entertainment Specialists today.