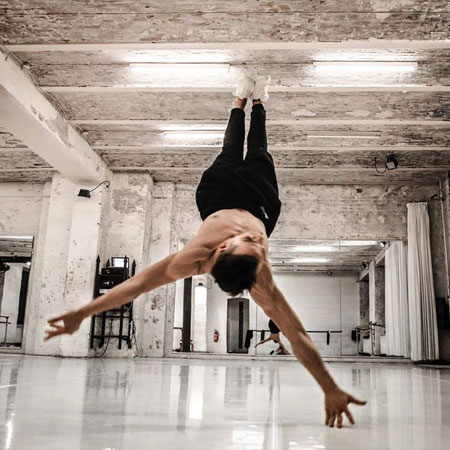 Acrobatic Break Dancer Berlin
Top world athlete & dancer will wow audiences
Triple break dance world champion in China, France & South Korea
Gravity-defying act incorporates break dance & aerial acrobatic moves
Previous clients inc. Red Bull, Sony, L'Oreal & Skybar
Based in Berlin & available to perform at events worldwide
Acrobatic Break Dancer Berlin PHOTOS
A top world athlete and dancer, he has travelled around the world wowing audiences at events for big clients like Red Bull, Sony and L'Oreal and competing in numerous championships and competitions. Winner of the KOD World Championships, China in 2012; World Power Move Series, France in 2012; and Bboy-Unit, South Korea in 2006 this triple break dance world champion knows what it takes to succeed.
An experience and skilled performer, he has created his own unique style combining break dance and aerial acrobatic rotation movements. His gravity-defying Powermoves make for a high-energy high-octane performance that will have audiences on the edges of their seats cheering for more!
Ideal for product presentations, exhibitions, corporate events, gala event, private parties and much more his incredible break dance shows add an undeniable wow factor to any event.
SkyBar lebannon 2014
Sony Xperia E3 London 2014
Playstation Sony Cologne Germany 2013
Reebook Le Mans 2013
Feiyu Paris 2012
RedBulletin & l'équipe magazine Paris 2011
L'Oreal Paris 2010
The Game's Concert Czech Republic 2009
25 shows Red bull Flying Illusion German Tour 2014
Step Up Video premiere in Berlin 2014
Red Bull flying Illusion TV Commerical Berlin 2014
SkyBar Abu Dhabi 2013
G-shock Casio Berlin 2013
KTM Motor Fashion Gala Paris 2011
Axis of Power Belarus 2011
Red Bull Formula 1 Monaco 2010
French President M. Sarkozy Paris 2009
Playstation Sony Cologne Germany 2014