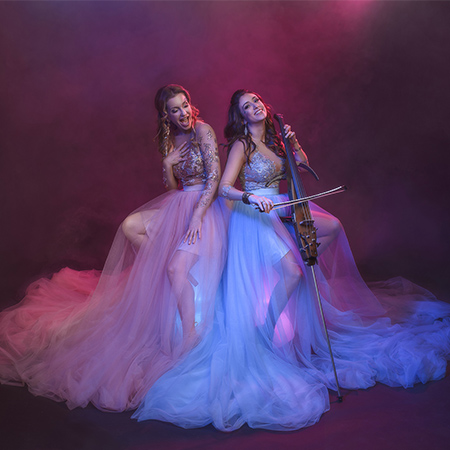 Crystal Strings
Glamorous and glimmering electric string act performed by sophisticated world-class musicians
Musicians offer solo and duo acts and are also available as an electric string trio and quartet
Able to fully customise show (music, clothing, set list) and perform both stage and roaming acts
Popular electric string act for corporate events, galas, after dinner experiences, product and brand launches, fashion shows, etc.
Crystal Strings are available for events in Germany and all over the world
Sophisticated and truly glamorous, Crystal Strings are an electric string quartet formed by four exceptional musicians offering diverse lineup options.
The highlight of every event, our female electric strings consists of two talented cellists, two violinists and one DJ and singer. 
Electric and Glimmering Female Electric Strings 
Stylish and classy, these string musicians deliver performances that are a delight to watch and listen. Always dressed according to the occasion, our electric string quartet's glamorous and glimmering style is their identity sign. 
The perfect way to add sparkle to your event, this electric string act is guaranteed to get people talking about your party for years to come. Offering both stage and roaming performances, these radiant ladies can perform on stage and also walk around your venue playing their instruments and interacting with audiences.
Electric String Act: Solo, Duo, Trio and Quartet
This elegant string ensemble offers flexible and scalable lineups. Hire solo acts, an electric string quartet and anything in between. An electric string trio formed by two violins and one cello is one of the audience's favourite options!
Also offering a DJ set, our musicians regularly join forces with a female DJ and singer who keeps the event going until late in the evening. 
Able to customise their show in a number of ways, our female electric strings can create choreographed performances and adapt both their repertoire and clothing to match the tone of your party whether it be a fashion show, a gala dinner, a concert or a corporate event. 
Top Tip:
This ensemble's cellist also offers solo performances. Find out more about her by checking her profile Crystal Cello. 
Explore More, Request a Quote
If you're interested in booking Crystal Strings for your next event, contact us and request further details on these phenomenal electric string musicians. For further inspiration on luxury entertainment, read our piece about Shine Bright like a Diamond Entertainment Ideas.