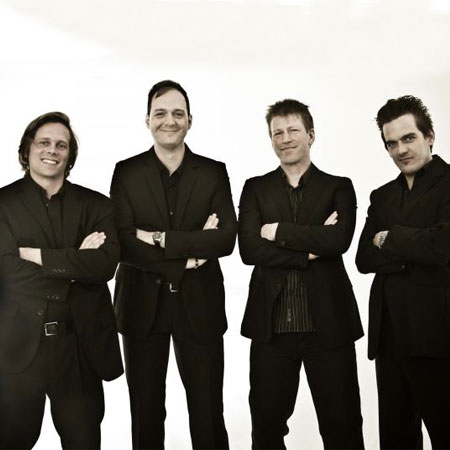 Jazz Band Münster
Classic jazz quartet will create a sophisticated ambiance
Provide stylish background music perfect for any event
Repertoire features classics inc. 'Girl From Ipanema' & 'Take Five'
Can expand to perform as a quintet with a professional jazz singer
Based in Münster Germany & available to perform at events worldwide
This classic jazz quartet based in Münster will create a sophisticated ambience with their stylish background music. Perfect for wedding receptions, corporate dinners, and special occasions, their eclectic repertoire of well-known jazz classics such as 'Girl From Ipanema', 'Fly Me to the Moon" and 'Summertime' will enchant and delight guests.
Their style and performances are utterly timeless. They can perform as a static band, roaming band, and as a quintet accompanied by a professional jazz singer for a stage performance that will be the centrepiece of your event.
Having performed at numerous private and public events across Germany, and at some of Münster's and Germany's most exclusive venues, you can rest assured that this jazz quartet will make your event a success.
Ain't she sweet
All Blues
All of Me
All the Things you are
Alone Together
Angel Eyes
Autumn leaves
Beautiful Love
Big Blues
Black and Blue
Black Orpeus
Blue Bossa
Blue Monk
Blue Moon
Blues Walk
Bye Bye Blackbird
Cantaloop Island
Cheek to cheek
Cherokee
Days of wine and roses
Dear old stockholm
Desafinado
Dont Get Around
Dont know why
Doxy
Fever
Flamingo
Fly me to the Moon
Freddy the Freeloader
Georgia on my mind
Girl from Ipanema
Have you met Miss Jones
Hello Dolly
How high the moon
I get a kick
I let a song go out
In a mellow tone
Israel
It Don't Mean A Thing
Jordu
Killer Joe
Killing Me Softly
Lullaby of Birdland
Mack The Knife
Mercy Mercy Mercy
Misty
Mo Better Blues
Afternoon in Paris
Moonglow
My funny Valentine
My little suede shoes
My Way
Night and Day
On the sunny side
One note samba
Perdido
Quiet Nights of quiet Stars
Road Song
Route 66
Satin Doll
Senedade to a Cookoo
Softly as in a morning sunrise
Someday my Prince
Song for my Father
Spain
St. Thomas
Stella by Starlight
Stolen Moments
Sugar
Summertime
Sundown
Sunny
Take Five
Take the A-Train
Tenor Madness
This masquerade
Unchain my Heart
Watermelon Man
When the Saints
When you are smiling
Work song
You are the sunshine of my Life
Mood indigo
HBZ Münster
Kunsthalle Hiltrup
Day of International Hanse Münster
Munster spoiled
Weingut Graf von Kanitz
Wine Festival Luedinghausen
Inauguration Stubengasse Münster
German Federal Railroad
Two Lions Club Münster
Dämmtherm Münster
Good Havichhorst Münster
Fachhochschule Münster
Gerber Architekten Dortmund
Sports Velen
German pension insurance
Dorf Münsterland Rosendahl
Sailing Club Hansa Münster
Kreuzviertel hard Münster
Kitchens Stairs Kötter old mountains
Eckerle Herrenmoden Münster
Portal 10 Münster
Factory Hotel Münster
Arte M city wage
UKM Münster
German Bund builder
Kaufhof Münster
Theatre Festival Münster
Forest Hotel Krautkramer Münster
Mercedes Beresa Münster / Nordhorn / Osnabrueck
Landgasthof Pleister mill Münster
Fashion Brands Münster
Press Association Münsterland
Rotary Club
Martinus market Greven
Diätverband e.V.
Castle Varla Rosendahl
Castle Cappenberg
Schloss Wilkinghege Münster
Calibration roller bearings Hattingen
Windhoff software Gescher
Hot Jazz Club Münster
Bar Celona Münster
Volksbank Münster
Absoventenfeier WWU Münster
RWGV Cologne and Münster
Steverburg Nottuln
Scharkon lighting concepts Hamm
Night of the entrepreneur Hamm
Nordkirchen
Evidence Tannenhäuschen holders
Karstadt Ladies Night Dortmund
A2 at Lake Aa Munster
Rose Festival Seppenrade
Joinery Hagemann Münster
Christmas market Brilon
Wine Festival Münster