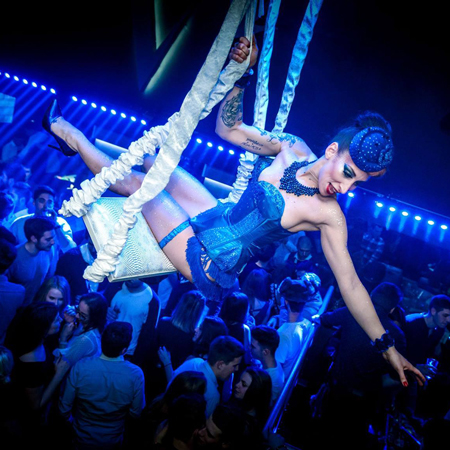 Parisian Aerial Showgirls
Superb aerial performers and pole dancers incapsulated in showgirl glamour
Available alongside matching stage-based showgirls for dynamic performances
Incredible custom-made stage outfits that will be tailored to your event type, locations or theme
Perfect for VIP parties, launch events, opening ceremonies, themed events and much more
Based in Paris and Cannes, the aerial performers are available for events worldwide
Parisian Aerial Showgirls PHOTOS
Oozing with decadence and glamour, our Parisian Aerial Showgirls are taking showgirl performance options to new heights and guests love it. These utterly fabulous multi-dextrous event dancers are able to offer a wonderful range of aerial performer options as well as some astounding pole dancing all wrapped in with showgirl glamour. 
Event dancers like you've never seen before
Coming from the same team that creates the stunning Luxury Party Showgirls, and their themed counterparts, our Parisian Aerial Showgirls some dressed in some of the most incredible custom-made stage outfits you'll ever see on an act like this. The experienced aerial performers and pole dancers know how to make the best impact and will always endeavour to tailor props and stage wear to suit the event type, locations or theme.
Why hire pole dancers and aerial showgirls 
As you can see in the above photos and videos, our Parisian Aerial Showgirls and the pole dancers are often booked alongside a regular team of event dancers. The result is a multi-faceted dance and aerial acrobatics experience in matching costumes and this gives your event the glamour that it deserves. By adding pole dancers and aerial showgirls along to the other dancers you'll add an immersive dynamic that will really make the entertainment a memorable factor of your event. 
Our team at Scarlett Entertainment is more than happy to liaise with the aerial showgirls to create the perfect performance options for your event. Speak to us to find out more.