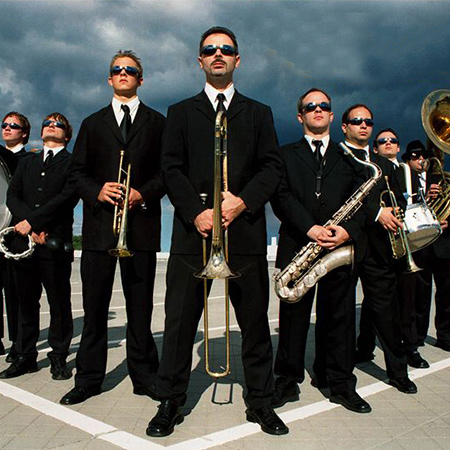 Suits Marching Band
Bring your party to the new level with the energetic performances of this sophisticated marching band
Always dressed for the occasion, this suits marching band is guaranteed to become an instant hit at your event
Musicians also offer stage shows and teambuilding activities for people of all ages
Ideal entertainment option for festivals, street celebrations, concerts, themed events, corporate events, conferences, etc.
This Suits Marching Band is available for events in Hamburg, Germany and all over the world
Suits Marching Band PHOTOS
This Suits Marching Band is an ensemble of brass musicians offering dynamic and entertaining performances packed with unique choreographies and everyone's favourite music!
A brass band dressed for the occasion
Delight guests at your upcoming event with a musical walkabout act that exudes style and elegance. Dressed in elegant suits, this walking brass band will quickly catch the attention of passersby with their sophisticated attire. 
Complemented with hats and sunglasses, our musicians' costuming make them the ideal entertainment choice for themed events. Also suitable for private parties, concerts, corporate events, festivals and other occasions, this extraordinary musical walkabout act is guaranteed to become an instant hit at your celebration. 
Stage entertainment and musical walkabout act 
This versatile group of musicians pride themselves on offering both stage and roaming entertainment. A popular walking brass band, they can also deliver stage performances and share the limelight with other artists to deliver a unique show. 
On top of that, this German brass band choreograph each and every one of their acts and will be happy to come up with original ideas for choreographies and performances especially for your occasion. 
Having performed for both small and large crowds, this German brass band's extensive list of previous clients include big brands such as Ikea, Bosch, Siemens, Puma, Coca-Cola, Johnson & Johnson, Deutsche Bank and German Railways, to name but a few. 
Top Tip:
If you're looking for a fun and interactive teambuilding activity for your corporate event or conference, our walking brass band can make it happen for you!
Hire a Brass Band 
If you would like to hire a brass band for your event, don't hesitate to get in touch with us today.