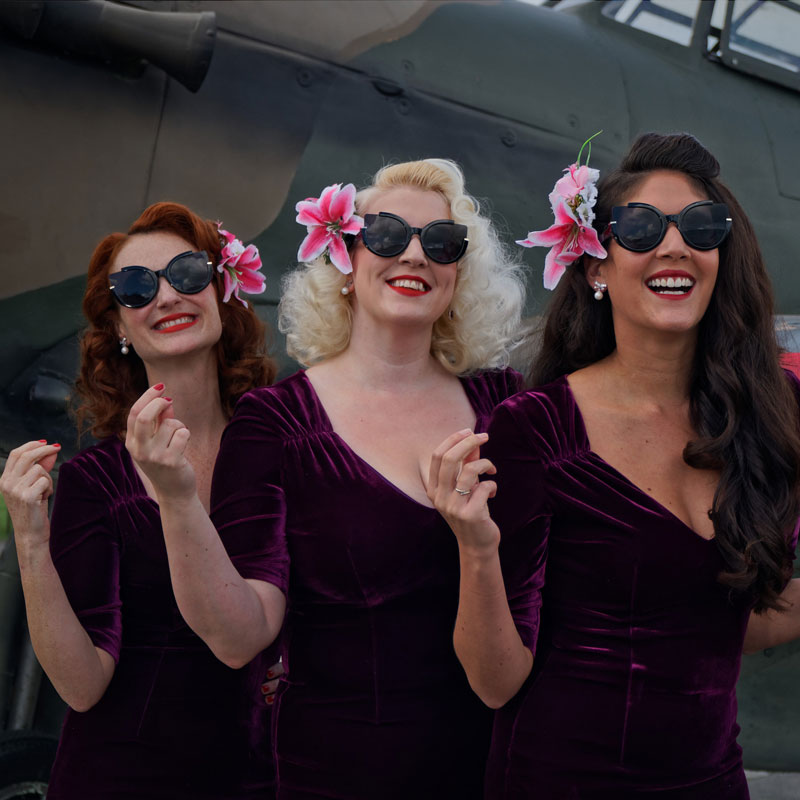 40s Vocal Harmony Trio
Our Vocal harmony Trio adopt glamorous vintage 1940s style personas
Their close harmony singing is blended with expert comedic timing and audience interaction for an engaging high-end show
Highly experienced and have performed on BBC Radio and been featured in the London Evening Standard
Stunning costumes span authentic American WW2 uniforms, pretty vintage dresses, or old school Hollywood gowns
Based in London, UK, our exceptional 40s vocal trio are available to perform at events worldwide
40s Vocal Harmony Trio PHOTOS
Who needs the Andrews Sisters when these gals are in town? Jaw-Droppingly authentic our 40s Vocal Harmony Trio has performed on BBC Radio, at Ronnie Scott's, Ascot Racecourse, Tall Ships Regatta and main stage of Twinwood Festival and successfully spread some Christmas cheer at London's iconic Waterloo Station.
They adopt American personas and wear authentic American Nurses Corp dresses and other WW2 replica outfits. Alternatively, their selection pretty vintage dresses are fantastic for classic parties or corporate events. Expect lots of comedy and audience participation. The chemistry between the girls in undeniable and the flawless performance makes it suitable for audiences of all size and age. 
Fancy being a close harmony diva too? Why not incorporate a singing lesson for your event? A great way to get everyone involved, Lois, Mary-Lou and Rita Roo will split the attendees up to teach you separate parts of the song and then bring everyone back together for your big night in front of the spotlight. The girls can also offer vintage hair styling, compering and balloon modelling - just ask. What a great alternative team building exercise!
With a number of performances to suit a number of themes, there'll be a perfect match for your event. Choose from:
Wartime act
Hollywood Glamour act
Christmas act
Top Tip:
For a bigger sound and double the impact, why not book our singers with their band? Available to perform with a 4-6 piece band for bigger events or large audiences.
Bring some fun, glamour and unquestionable talent to your event by enquiring about this fantastic 40s Vocal Harmony Trio today. 
Contact us to find out more and to make a booking.
WARTIME
Ac-Cent-Tchu-Ate The Positive - Bing Crosby & The Andrew Sisters
Alexander's Ragtime Band - The Andrews Sisters
Beat Me Daddy Eight To The Bar - The Andrew Sisters
Beer Barrel Polka - The Andrews Sisters
Bei Mir Bist Du Schon - The Andrews Sisters
Boogie Woogie Bugle Boy of Company B - The Andrews Sisters
Bounce Me Brother with a solid four - The Andrews Sisters
Chattanooga Choo Choo Glenn Miller
Don't Fence Me In - Bing Crosby & The Andrew Sisters
Don't Sit Under The Apple Tree - The Andrews Sisters
Get Your Kicks on Route 66 - Bing Crosby & The Andrew Sisters
Hold Tight Hold Tight - The Andrew Sisters
I'll Be With You In Apple Blossom Time - The Andrew Sisters
Oh Johnny - The Andrew Sisters
The Butcher Boy - The Andrew Sisters
In The Mood - Glenn Miller
Lullaby of Broadway - The Andrew Sisters
Lullaby of Broadway - The Andrews Sisters
Pennsylvania 6-500 - Glenn Miller
Pennsylvania Polka - The Andrews Sisters
Rhumboogie - The Andrews Sisters
Rum and Coca Cola - The Andrews Sisters
Say Si Si - The Andrews Sisters
Sing Sing Sing - The Andrews Sisters
South American Way - The Andrews Sisters
Straighten Up & Fly Right - The Andrews Sisters
The Coffee Song - The Andrews Sisters
The Woodpecker Song - The Andrew Sisters
Tico Tico - The Andrews Sisters
HOLLYWOOD
Button Up Your Overcoat - Ruth Etting
Ev'ry Time We Say Goodbye - Ella Fitzgerald
How D'Ya Like Your Eggs in the Morning - Dean Martin & Helen O'Connell
I Wanna Be Like You - Louis Prima
I Wanna Be Loved By You - Helen Kane
It Had To Be You - 20's Standard
It's a Good Day - Peggy Lee
Java Jive - The Ink Spots
L-O-V-E - Nat King Cole
Let's Call The Whole Thing Off - Ella Fitzgerald
Let's Face the Music & Dance - Nat King Cole
Puttin' on the Ritz - Ella Fitzgerald
Swing on a Star - Bing Crosby
That's Amore - Dean Martin
Too Darn Hot - Ella Fitzgerald
Why Don't You Do Right? - Peggy Lee
CHRISTMAS
Baby it's Cold Outside
Christmas Island
Fairytale of New York (A-Capella Swing version)
Frosty The Snowman
Have Yourself a Merry Little Christmas
Here Comes Santa Claus
I'd Like to Hitch a Ride with Santa Claus
Jingle Bells
Last Christmas (swing version)
Let it Snow Let it Snow Let it Snow
Mele Kalikimaka
Rockin' Around the Christmas Tree
Santa Baby
Santa Claus is Comin' to Town
The Christmas Song
White Christmas
Winter Wonderland
Barts Chelsea
Bentley's Fairs
Bun & Bar
Capel Manor Gardens
Chatham Historic Dockyard
Coolhurst Tennis Club
Duxford Aerodrome
Evans & Peel Detective Agency
HMS Belfast
Hitchin Lavender
Kettering Borough Council
MASH Dance Company
Montague on the Gardens Hotel
Quex Park
RAF Marham
Sherbourne Castle
Tate & Lyle Sugars
The Earl Haig Hall
The Library Gym Notting Hill London
The Posh Club
The Royal lnternational Air Tattoo
Twinwood Festival
Westfield London & Stratford
Yorkshire Air Museum
Aerolegends
Bath Christmas Markets
Bentley's Fairs
Cahoots Soho London
Chandos House
Colour House Theatre
Darlington Borough Council
East Lancashire Railway
Goodwood Revival
HMS Culdrose
Imperial War Museum Duxford
King Edward Court Shopping Centre Windsor
Maldon Town Council
Pearlfisher
RAF Manston
Ronnie Scott's Jazz Club & Bar
Tall Ships Festival - Greenwich
Temple at War Show
The Evening Standard
The London Classic Car Show
The Royal British Legion
The Victoria & Albert Museum
VolksWorld
Weston College
Ascot Racecourse
" They are clever gals - divine divas with delicious harmonies -fabulous entertainment. "

BBC Radio Cambridge
" The band sprinkled their fairy dust harmonies on our very successful #christmasishere event at Waterloo Station, bringing smiles to many thousands of battle hardened commuters. "

Benjamin Bibbings, Head Of Project Management, ESI Invent, London Evening Standard, The Independent and London Live
" Charismatic, enchanting, full of energy and, to put simply - fun! We're looking forward to many, many more evenings with these lovely ladies! "

Dominik Wielocha, Evans & Peel Detective Agency
" What sets [this group] apart from other close part harmony 1940's troupes is their sharp wit and sassiness. They're wonderfully tight singers too with an impressive sound. This is feel good 40's and guaranteed to bring joy to any audience. We love them! "

Earl Haig Hall
" Westfield Presents love having them perform, they are full of energy and always pull a fantastic crowd and we would welcome them back to Westfield to entertain our guests anytime. "

Westfield London
" "[40s Vocal Harmony Group] are clever gals - divine divas with delicious harmonies - fabulous entertainment!" "

Sue Marchant BBC Radio Cambridgeshire
IDEA ARTICLES RELATED TO 40s Vocal Harmony Trio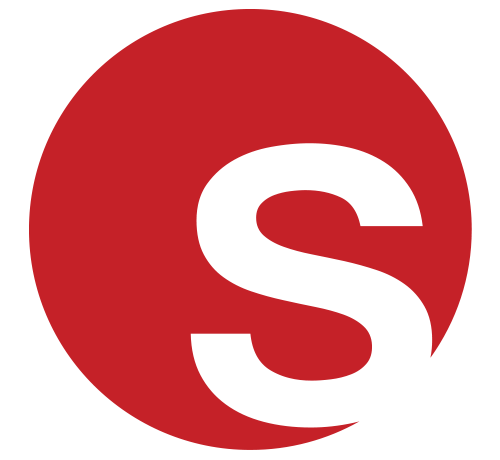 Christmas Crooners - Putting The Swing Into Christmas
Christmas Crooners - Putting The Swing Into Christmas
Grace Henley
|
02/12/2019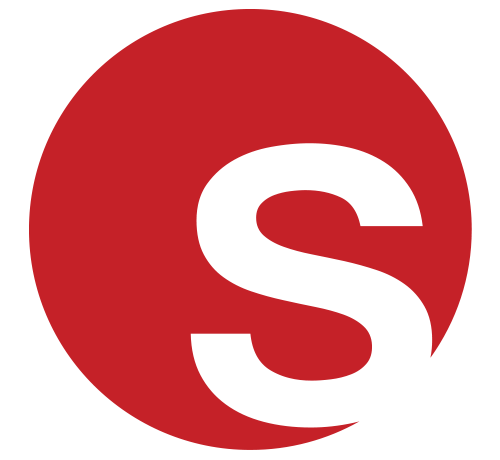 1940s Wartime Entertainment with a Sophisticated Christmas Twist
1940s Wartime Entertainment with a Sophisticated Christmas Twist
Grace Henley
|
01/11/2019