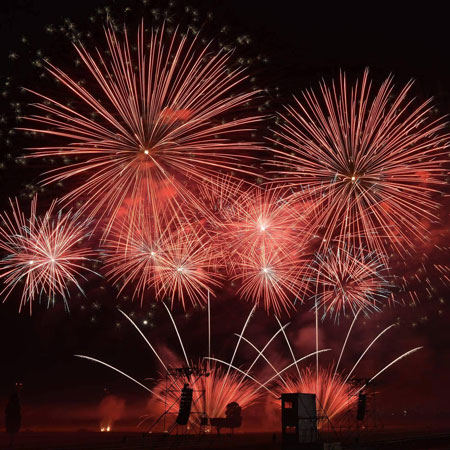 Customisable Fireworks Italy
Fully customisable exuberant fireworks display for any event or occasion
Provider established in 1784 and provided fireworks for over three centuries
Pyro shows, water fireworks, music shows and much much more
They can create a fireworks display in any location day or night
Based in Italy and available for events all over the world
Customisable Fireworks Italy PHOTOS
Our Customisable Fireworks from Italy is a company that was first established in 1784 and has provided fireworks for over three centuries. They can provide you with any fireworks display of your choice accommodating all types of budget, event types and locations. The possibilities of this customisable fireworks display provider is almost endless and always guaranteed to make a big impact.
Using the latest technology in pyrotechnics they are able to create fully bespoke, pre-programmed fireworks displays that will have audiences gasping in sheer amazement. The fully bespoke shows are an unforgettable experience for the spectator and guaranteed to leave a long lasting impression. They can program bespoke fireworks shows to music, off buildings, on water and from multiple locations all at once. 
If you want your event to go off with a bang or round up the soiree with a big finale, launch a product with a big impact or make your wedding day an unforgettable experience for friends and family, these bespoke fireworks are exactly what you need
Customisable Fireworks Italy offer a wide range of service for various event types and categorised as follows:
On water
In city centres
Pyro-musical
Daytime
Nighttime
Major Events
Weddings
They are highly regarded all over Italy for their explosive, high impact and wow factor displays and therefor an ideal choice of fireworks for your event. As one of the longest established providers of customisable fireworks you know you'll be in good hands.
Contact our team at Scarlett Entertainment to organise your own bespoke fireworks display and have your guests in total disbelief.