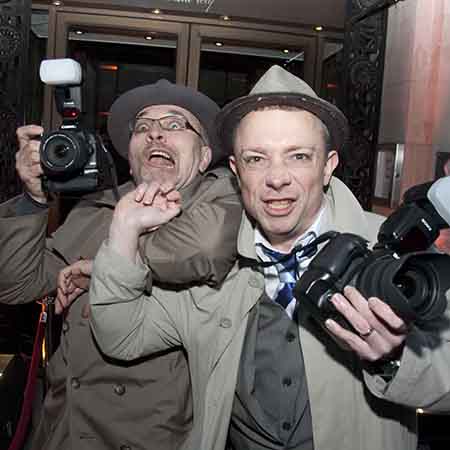 Fake Paps
Hilarious Fake Paparazzi capturing the event as it unfolds
Ensure they get some brilliant photographed moments for guests to treasure
Images will be up on your own dedicated microsite within about 2-3 days
Can also give your party a glitzy premier vibe with a comedy news reporter
Based in the UK and available to perform at events worldwide
Kick off the night with the brilliant Fake Paps gang snapping you and your guests as they arrive! They'll feel like real A-Listers and because the fake paparazzi make guests laugh, the results are also really natural.
Capturing the event as it unfolds, the fake paps will add an element of comedy and fun, whilst ensuring they get some brilliant photographed moments for you and your guests to treasure forever. All your guests have to do is bask in the whole A-Lister celebrity buzz, safe in the knowledge that they won't be splashed over the celeb mags in the morning.
Also available to give your party a glitzy premier night vibe with comedy interviews by a dodgy 'NewsCrew' reporter who will have your 'Super Stars' falling about on the red carpet in no time with cheeky jibes, ad-libs and quick-fire gags.
After a quick bit of photoshop, all images will be up on your own dedicated microsite within about 2-3 working days for guests to view, copy and share, and there's on-line print ordering as well.
Brighton & Hove Albion
Endsleigh Insurance
John Lewis
Linked In
O2
PlayStation
3 Mobile
Tesco
WH Smith
Allianz
Deloitts
HSBC
Kuoni
NFL
McCann Erickson
RAF
Schun
Wickes
Barclaycard
" Comedy Paparazzi were a delight to work with very professional and it worked really well. Very much worth the money! "

Emma Saunders - Corporate Event
" Valerie "

The guys, (..) were just amazing. Very likeable and friendly and helped the party go off with a bang, every guest was surprised at being papped but they all had huge smiles on their faces as they entered the room. The photographs they took are brilliant too, very good quality. I would absolutely book them again for future events. Brilliant all round, Thanks.
" Great guys and really made the party, they worked hard to ensure all our guests enjoyed themselves and were a great laugh! Highly recommended! Thank you! "

Gareth Eighteen (Schuh) - Corporate Event