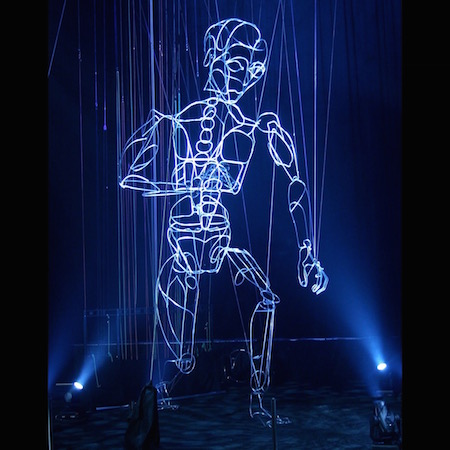 Giant Puppet
The largest marionette in North America and the only one in the world designed to hold circus acts in its hands
Giant puppet circus act that can be operated by circus staff or audience members
Aerial puppet act can be customised by performing to bespoke music and colour themes
Featured at prestigious events like the opening of Vancouver's Convention Centre and the TED Wrap Party in Long Beach California
Based in Vancouver, Canada and available for hire for events worldwide
Our incredible giant puppet is a breathtaking act that will leave a lasting impression at your event.
Our giant  marionette puppet is the largest in North America, and the only puppet ever designed to hold other circus acts in its hands. As a fully operational marionette, our stunning puppet can be operated by circus staff and audience members making this the ultimate act for audience participation. 
Scarlett Entertainment's puppet entertainment act can be made to dance to music, jump up and down, hold other circus acts in the palm of its hand or simply stand still as a mind-blowing giant sculpture. Illuminated in lighting, our giant marionette is one of the most striking and eye catching circus acts available. 
Our fantastic puppet act is brilliant for any grand event. Whether it be an opening ceremony, a concert, a product launch, award ceremony or festival, our giant puppet is guaranteed to make your event unforgettable. Our marionette puppet has been professionally crafted and our experts will be able to provide you with professional advice and assistance. The puppet performance can be customised and tailored for your specific event, which is fantastic for themed occasions. 
Contact our entertainment specialists today to find out more about our unique and innovative giant puppet.