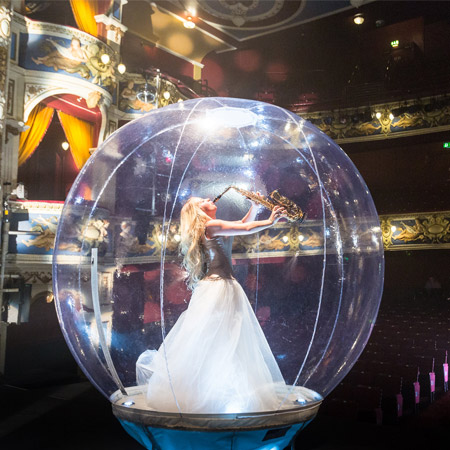 Performance Globe
Incredible performance globe offers a unique and visually stunning performance concept
Live music globe delivers a stunning performance as world class musicians perform from inside it
Amazing live music from a DJ or performer of your choice or let our violinist, singer, saxophonist or percussionist deliver a thrilling performance
Amazing globe has dazzled audiences at weddings, corporate events, parties and nightclubs around the world
One of a kind music entertainment available for bookings in the UK and Europe
Book this incredible performance globe for a unique and eye catching spectacle that will take any music performance to the next level. This stunning globe makes a powerful and beautiful sight with a musician or singer performing inside it, with the globe acting like a huge crystal ball or sphere to magnify the talents of the performer inside and create a truly stunning performance.
This live music globe works with any performer or musician of your choice and is great for adding a magical wow-factor to any event with its unique design concept and gorgeous lighting. Any live music or DJ set would look great performed inside this incredible globe, from elegant solo opera singers to swinging saxophonists and much more. For the ultimate choice in attention grabbing music entertainment look no further than our incredible performance globe.
This performance globe is a unique performance concept that has amazed audiences at events, parties, nightclubs and weddings all around the world. Turn any live music into a theatrical and beautiful performance with this incredible globe that's sure to create an elegant and stylish ambience at your event that guests will remember for a long time.
The possibilities with this live music globe are endless. Put your DJ in a giant glowing ball and take your nightclub or party to the next level or add a classical singer or electric violinist to the globe and deliver an elegant and enchanting show. This fantastic music entertainment comes with options including singers, violinist, percussionist, saxophonist and a range of visual themes, or pick you own musician and built a unique and mesmerising stage show.
Contact our team to book this incredible performance globe, and why not book one of our fantastic musicians or singers to play inside it.
Forman's Fish Island
Hilton Prague
Newbury Racecourse
Peckforton Castle
Royal College of Physicians
St. Austell Brewery
The Lyceum Theatre
Wentworth
Addington Palace
Hilton Liverpool
International Cotton Association
Oval Cricket Ground
Queen Elizabeth II Conference Centre
St George's Hall Liverpool
The Landmark Hotel
Titanic Hotel Liverpool
Woodbury Park
Exeter Chiefs Rugby
" Wanted to say thank you so much for organising everything, you have been amazing!! Everyone had a great time and we raised a lot of money for the school, which is what it's all about! Once again, THANK YOU! "

Michelle Lynch, Private School Ball
" Great job at the M&IT Awards on Friday night!  An absolutely amazing night had by all! "

Ellie Jones, BDM, Alton Towers Resort
" Many thanks for your time and collaboration for yesterday's event, it is great fun working with you and I LOVE your acts! The Music Globe was simply stunning and quite the talking…watching point. Your time and efforts were much appreciated and I know the guests really enjoyed your acts. Great stuff & keep up the good work! Thanks very much & speak/see you again soon "

Holly Burrows - Head of Events, Sales & Marketing, Formans Fish Island