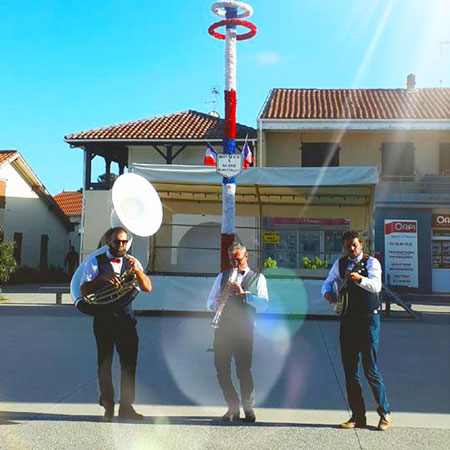 Roaming New Orleans Jazz Trio
High quality and very stylish roaming band bring the sounds of New Orleans jazz
Ideal for private parties, weddings, festivals, family friendly fêtes and countless other outdoor parties
Repertoires spans from iconic New Orleans standards through to Gypsy jazz
Creates an immersive live music experience that your guests will love
Based in Bordeaux, South West France, and available for events worldwide
Roaming New Orleans Jazz Trio VIDEOS
Roaming New Orleans Jazz Trio PHOTOS
Our Roaming New Orleans Jazz Trio bring the sounds of Louisiana to the South West of France. These stylish gentlemen will delight your guests with their walkabout music and positively charming performances. 
Formed by three established musicians, our Roaming New Orleans Jazz Trio consist of the tuba, saxophone, banjo and vocals. This fully acoustic instrumentation enables the trio to perform walkabout music at their leisure. Perfectly suited to wandering the streets, riversides and trendy bars of Bordeaux, the roaming band is available for events throughout France and internationally.  
Specialising in the kind of New Orleans jazz that you would expect from the banks of the Mississippi, the roaming band has a large repertoire of songs that spans all the way from New Orleans standards to gypsy jazz. Much of their walkabout music is widely recognisable with songs such as When the Saints Go Marching In being international all time favourites.
The Roaming New Orleans Jazz Trio brings a touch of Southern charm to private parties, weddings, festivals, hotel lobbies, city centre celebrations, family friendly fêtes and countless other outdoor parties. You can book the roaming band to wander around your event an entertain various groups of guests or, alternatively, they can perform as a normal band would, on a stage. 
The fun and elegant roaming band is perfect for providing an alternative live music experience. The feel-good New Orleans jazz in the form of walkabout music is great for creating a Summery and happy atmosphere and your guests are sure to love it.  
Contact us to find out more or to book the exciting Roaming New Orleans Jazz Trio for your upcoming event.