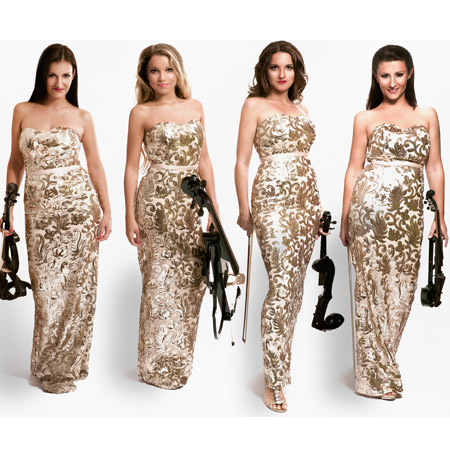 String Quartet Monaco
Four elegant, glamorous females - musically trained to the highest level
Perfect for the corporate market and high-end weddings
Can perform inside a bubble, on acoustic or electric strings
Performed for Mercedes, at World Music Awards and Escada fashion parade
Based in Monaco and available to perform at events worldwide
String Quartet Monaco PHOTOS
This Monaco based electric and acoustic string quartet is comprised of four elegant, glamorous females who are musically trained to the highest level. The girls perform their renowned world class show at concerts, corporate events, product launches, weddings and private parties all over the world; wowing the crowds and setting the stage alight.
The show is a fusion of musical styles, the essence of the show being filled with classical crossover favourites and instrumental versions of popular songs from past and present.
This stunning act has been booked worldwide to perform for high profile clients including Mercedes, and at prestigious events such as the Motor Show in Geneva, the World Music Awards and at the Escada fashion parade.
Contact us to book this or any other act on our roster.
X Games Tignes
Mercedes
Vodka "Belvedere"
Swiss club
Biogaran laboratory
Miss France
NRJ Music Awards
Music of the film "Thanato"
Locations:
Hotel de Paris Monaco
Hotel Negresco Nice
National Library of Belgium
Musée d'Orsay in Paris
Festivales Palace Cannes
Palace of the Mediterranean Nice
Events:
Trophy Motorsport
Catering "The Lord"
Lions Club Paris
G 20
Nikky Beach
World Music Awards
Escada fashion parade
Sporting Club of Monaco
Hotel Hermitage Monaco
Carlton Hotel Cannes
Comic opera of Paris
Room "Beetle" Roanne
Private Chateau: Genoa Italy
Congress in Dublin
Motor Show in Geneva (Ferrari)