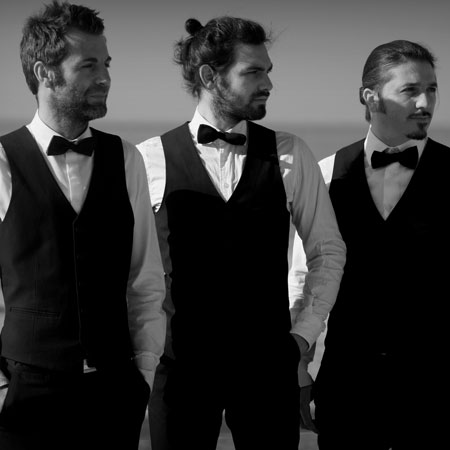 Tuscan Trio
Offer original, live arrangements of well-known contemporary songs
They harmonize beautifully together and have their own unique sound
The trio has performed extensively in Italy and Europe
They can play in acoustic, electronic or electroacoustic style
Based in Tuscany and available to perform at events worldwide
The Tuscan Trio are an all male trio from Tuscany that offer original, live arrangements of well known songs, characterised by the musical influences and experiences of each member of the band. They cover some of the best international music hits of pop, rock, blues, and soul, by artists such as Adele, AC/DC, Cat Stevens, U2 and many more.
The trio have performed extensively in and around Italy and across Europe in bars, pubs, restaurants, hotels, cruise ships, for weddings, private parties and large corporate events.
They can play in three different styles, acoustic, electronic or electroacoustic, depending on the venue and event needs, they harmonize beautifully together and have their own unique sound.
To book this incredible Tuscan Trio or for more information, contact our knowledgable Entertainment Specialists today!
Billy Joel - Just the way you are
Bob Marley - No Woman No Cry
Bob Marley - Redemption Song
Cat Stevens - Wild World
Creedence - Have you ever seen the rain
Elton John Bennie & The Jets Leonard Cohen - Hallelujah
Lionel Ritchie - Easy
Janis Joplin - Piece Of My Heart
M. Jackson - Man In The Mirror
Otis Redding - The Dock Of The Bay
Peter Frampton - Baby I Love Your Way
Pink Floyd - Wish You Were Here
Ray Charles - Hallelujah I Love Her So
Ray Charles - Hit The Road Jack
Sam Cooke - Bring It Home
Stevie Wonder - All I Do
The Beatles - Come Together
The Beatles - Ticket To Ride
The Beatles - Here Comes The Sun
The Police - Every Breath You Take
The Police - Walking On The Moon
U2 - I Still Haven't Found....
U2 - One
MODERN (BALLAD & SOFT)
Adele - Rolling In The Deep
Bruno Mars - Grenade
Bruno Mars - Marry You
Bruno Mars - Versace on the floor
Cold Play - Trouble
Ed Sheeran - Give me love
Ed Sheeran - Perfect
Ed Sheeran - Tenerife Sea
Ed Sheeran - Thinking Out Loud
Guns & Roses - Sweet child of mine
Kings Of Leon - Use Somebody
Jason Mraz - Lucky
Maroon 5 - This Love
Michael Buble - Everything
Michael Buble - Home
Naughty Boy - Running
Pink - Try
Radiohead - High & Dry
Stereophonics - Have A Nice Day
Stereophonics - Maybe Tomorrow
The Calling - Wherever you will go
Toploader - Dancing in the Moonlight
OLDIES UP BEAT
AC/DC - You Shook Me All Night Long
Bill Haley - Rock Around The Clock
Chubby Checker - Let's Twist Again
Creedence - Fortunate Son
Creedence - Proud Mary
E.E. Cherry - Save Tonight
Elvis Presley - Jailhouse Rock
George Michael - Faith
George Michael - Freedom
Jackson 5 - Blame it on the boogie
Joe Cocker - Unchained My Heart
Lynyrd Skynyrd - Sweet Home Alabama
Queen - Crazy Little Thing Called Love
Roy Orbison - Pretty Woman
Simon & Garfunkel - Bye bye love
Stevie Wonder - Superstition
OLDIES (BALLAD & SOFT)
Bruno Mars - Locked out of Heaven
Cee Lo Green - Forget you
Coldplay - Sky full of Stars
Daft Punk - Get lucky
Ed Sheeran - Shape of you
Florence & The M. - You've got the love
James Blunt - Bonfire heart
Jamiroquai - Love foolosophy
Jessie J - Domino
Justin Timberlake - Can't stop the feeling
Killers - Mr Brightside
Kings of Leon - Sex on fire
Maroon 5 - This Love
Oasis - Don't look back in anger
Oasis - Wonderwall
Pharrell W. - Happy
Temper Trap - Sweet disposition
ITALIANE
Battisti - Con il nastro rosa
Battisti - Eppur mi son scordato di te
Battisti - La canzone del Sole
Battisti - Il mio canto libero
C. Baglioni - Strada facendo
Celentano - Una carezza in un pugno
E. Bennato - Il gatto e la volpe
E. De Crescenzo - Ancora
Lucio Dalla - 4-3-1943
Lucio Dalla - Caruso
Mina - Parole parole
Nek - Laura non c'è
Pino Daniele - Io per lei
Ricchi e poveri - Sarà perché ti amo
U. Tozzi - Gloria
Zucchero - Con le mani
Zucchero - Diamante
Zucchero - Donne
MODERN UP BEAT