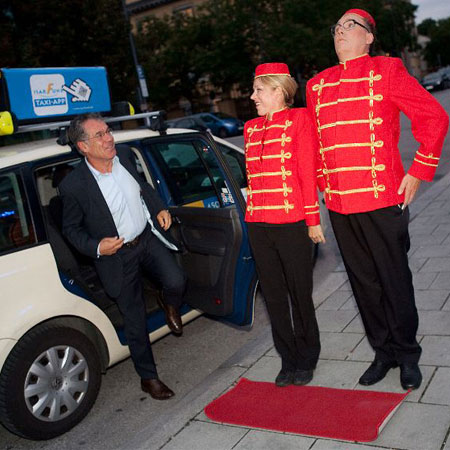 Comedy Greeters
Will turn your celebration into a VIP event!
Gives your guests a personal meet & greet experience with this fun act
A choice of carpets, stage props and accessories available
Previous clients include: HP, Allianz, Lego, Amazon & Roche
Based in Munich & available for events worldwide
Turn your celebration into a VIP event with this comedy meet and greet act.
Poised at the entrance to your event, this act will give your guests a unique and personal meet and greet experience that will have them in fits of giggles and put a smile on their face for the rest of the evening. Equipped with a range of coloured carpets in a variety of lengths, as well as various stage props and accessories, this spontaneous duo provide a funny and charming entertainment that will delight and amuse guests of all ages.
Ideal for a range of events this walkabout comedy duo can also be accompanied by a mechanical street organ.
Allianz
Lego
Commerzbank
Robinson
E-On
Migros
Audi
Roche
European Commission
HP
Bayer
Siemens
Leica
Amazon.de
T-Mobile
MERCK
BMW
German Bank
Lemo
" We can only recommend them and we were more than happy to work together with them. "

Amazon.de
" The very professional approach and cooperation, as well as the artistic arrangements of the time travel gave us a lot of praise from our customers and guests. "

Creaworld