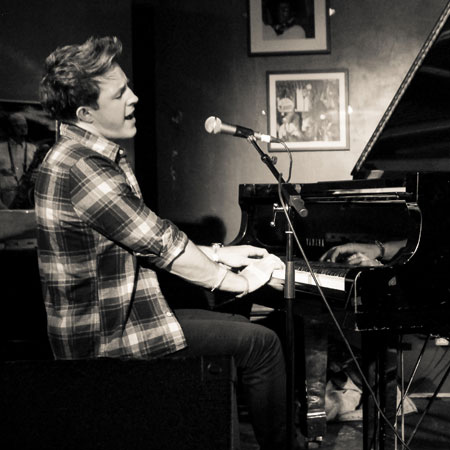 Pianist Stephen
Experienced, timeless, passionate & talented pianist and vocalist
Raw & edgy, he lives the emotion expressed with every note & lyric
Stephen has played in 26 countries, entirely through recommendations
His first album of original material has sold just over 20,000 units
Based in London and available to play at events worldwide
Unselfconscious and passionate; Stephen is a natural born performer. Fast becoming famous for playing the piano like Jimi Hendrix played the guitar.
Steven's passion was discovered at the age of 6, whilst playing an upright piano from a shed on Brick Lane and his favoured gig has always been the street. Whether performing a cover or one of his own, you get the impression he is right there at the song's inception, living the emotion expressed with every note and lyric. He's raw and edgy, and outlandishly cool with a complete absence of airs and graces; just what live music is all about.
His performances are timeless, beautiful renditions of well-known songs. When doing covers, he puts his own twist on recognisable songs and also writes his own original material. His first album of original material has sold just over 20,000 units.
Stephen was born to entertain!
London 2012 Olympics Equestrian events
Large Stage Rio Carnival 2011
Royal Diamond Jubilee Arts Festival 2012
" A Young Chris Martin "

Bloomberg, USA
" Ridiculously talented "

Gemma Cairn, Radio 1, UK
" A Young Prodigy "

GQ Magazine, Italy
" Mesmerising "

Deakin, UK
" Crazy "

Elle Magazine, France
" Charismatic, passionate, with a voice that could melt chocolate and a face like a young Hugh Grant. "

Alexandra Myerson, DHR
" An inspiring talent "

TimeOut, New York
" Having seen Stephen perform several times, what grabs me is the way he feels the songs. Whether a cover or one of his own, you get the impression he was right there at the song's inception, living the emotion expressed with every note and lyrics. He's raw and edgy, and outlandishly cool with a complete abscence of airs and graces, but great live music shouldn't be about polish and production - it should be about feeling, conveying emotion and drawing an audience in, and the talented Stephen does that in spades. He really is that great a guy. I hate him. "

Danny Williams, London Lifestyle Magazine