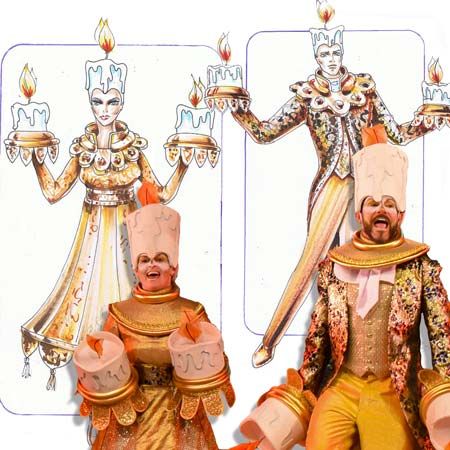 Costume Design Dubai
Let our talented costume designer bring your ideas to life with our custom costume design and production service based in Dubai
These stunning pieces of wearable art can be created for any theme or occasion and are made completely bespoke for your event and to a high standard
Having collaborated on a range of costume projects, our costumiers can create anything from custom mascot costumes to bespoke dance outfits and more
Our custom costumes have been designed and created for global clients including, Dubai Shopping Festival, Bluewaters Island Dubai, and many more!
Our custom design service is ready to create tailored costumes for your festivals, brand activations, corporate events and more, throughout the UAE
Costume Design Dubai PHOTOS
Our Dubai based Costume department are now available to design, create and produce bespoke costumes specifically for your event, party or venue! 
Costumes for Stilt Walkers in Dubai
We can create custom costumes for Stilt Walkers for your venue.  Our experienced costume designers in Dubai can create stilt walking costumes to match your colour or theme.  From impressive stilt-walking animals to a UAE National Day colour theme, our designers will come up with exciting costume solutions.  We can produce costumes for a range of stilt walkers including those on, peg stilts, dura stilts and jumping stilts.
Costumes for Dancers in the UAE
Our UAE costume designers and makers can create costumes for dancers, either for nightclub dancers, ballerinas, themed dancers or any flash mob costumes
Costumes for Wedding Party
Do you have a themed wedding in Dubai or Abu Dhabi and you are looking for costume design for your performers or guests?  Our team can design and create costumes specifically for your wedding and to perfectly complement your theme

Looking for the best Halloween costumes to be created for your staff, performers or production team?  Our creative team will work with you to discuss ideas and budgets to create the ultimate Scary costumes. 
Costumes for Christmas and Festive Events
Our team can create Christmas, Winter Themed or Festive costumes for your in house production team, performers or staff.   We can also supply the performers and models on request.  We can create costumes such as Elf costumes, Santa costumes, Ice Queen costumes, Snowman costumes and any other festive characters you can think of!
Why should I purchase costumes for my hotel, venue or shopping mall in Dubai?
Keep costs of performers at a lower day or week rate when you provide the performers with your very own seasonal costumes to wear.  We can provide a costume fitter and stylist onsite along with make-up ideas and templates to follow.
What size do you make the costumes?
Our costumes are custom made for you, we can either arrange a fitting in our office in Media City or we can attend your venue with our costume maker
How long do costumes last?
With all of our costume purchases, we offer repair service free of charge for the initial six months after purchase.  Please note that you would need to bring the costumes to our offices in Media City.
Do I have to hire the performers from Scarlett Entertainment when I purchase costumes in Dubai?
No, you do not need to hire the performers from Scarlett Entertainment.  Of course, we are happy to assist with casting and the creativity behind putting the production together, however, we are also happy to sell either our existing costumes or create new costumes as per your brief.
What is the lead time to create costumes in Dubai?
Ideally a minimum of 4 weeks from payment to costume delivery, however, please contact us with your exact requirements.
Dubai Shopping Festival
Bluewaters Island Dubai
Majid Al Futtaim
Caesars Palace Dubai