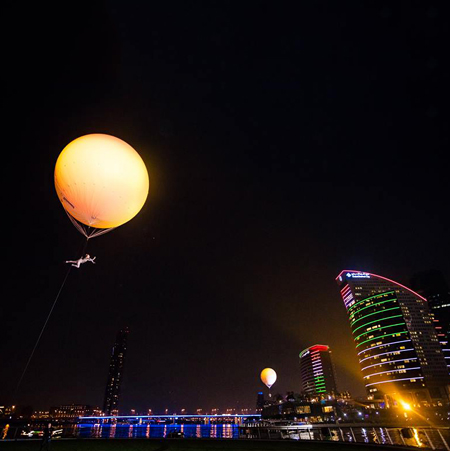 UAE Helium Balloon Aerial Show
Stunning customisable acrobatic show with giant helium balloons floating in the sky
An unmissable focal point that immediately attracts the attention of onlookers
Customisable with branding options and projections onto the helium balloons
LED costumes and lighting options make the balloon become illuminated beacons
Based in Dubai and available for shows all over the world
UAE Helium Balloon Aerial Show PHOTOS
Our utterly incredible UAE Helium Balloon Aerial Show is an absolute show stopper that will have your guests gazing up with sheer delight. This high-end helium balloon act combines aerodynamics and aerial acrobatics to create a majestic show in the sky. This is a highly impressive addition to almost any kind of event and creates a very memorable and noticeable focal point that immediately attracts the attention of onlookers.  
The helium balloon act features ambient aerial acrobatics whilst suspended from a giant floating helium balloon along with music and lighting. The UAE Helium Balloon Aerial Show has the option of one or several performers so you can create an extravagant show in the sky. 
For nighttime performances, the UAE Helium Balloon Aerial Show acts as a giant lantern that illuminates the aerial acrobatics and becomes a beacon for attention. Clients can choose from a singular colour to colour changes and the performers can wear dazzling colour changing LED suits. The aerial acrobats can also release ribbons, confetti, or flower petals into the audience and even swoop down to present gifts. 
The aerial acrobatics are performed with the utmost sophistication and become a visual delight. They are dressed in customisable bodysuits or LED costumes and can use a variety of props including an aerial harness, cor de volan, silk, aerial ring or LED aerial ring. 
Our UAE Helium Balloon Aerial Show is a highly customisable and brandable act with options to have projections onto the balloon during the show in the sky as well as before and after the performance which is perfect for exposing branding, logos or messaging to onlookers. Alternatively, it is possible to brand the balloon with stickers  
Top Tip:
The helium balloon act can be accompanied by ground-based acrobatic acts and dance shows for an even more impressive show.
Contact us if you would like to book this incredible balloon aerial show or any other acts from our massive roster of event entertianment acts located in the UAE and Middle East.