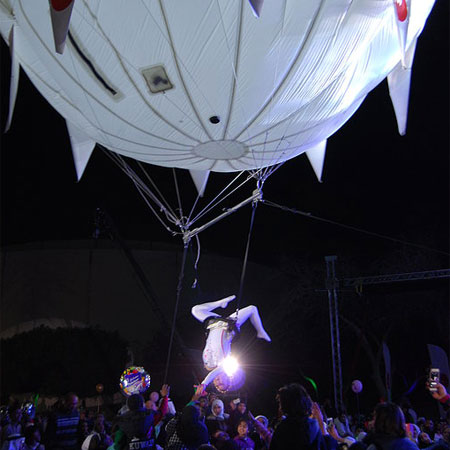 Aerial Balloon Show
Our aerial balloon act is sure to impress guests, as takes mesmerising aerial shows to a new level by hanging the artist from a helium balloon!
With a range of customisable options, both the helium balloon and performers costume can be tailored to promote your brand or theme
Our aerial balloon show is a breath-taking spectacle that engages an audience and creates picture-perfect moments to share on social media
The perfect wow-factor addition to corporate events, festivals, concerts, stadium shows and much more!
Based in the USA & available for events worldwide
Aerial Balloon Show PHOTOS
Take audiences on an ethereal flight of fancy with this truly distinctive aerial performance, which combines aviation and circus skills to create breath-taking overhead spectacles.
This interactive performance has engaged and inspired audiences across the world. Stunning aerial acrobatics and ballet, performed while hanging from a giant helium balloon, are sure to capture audiences' attention and leave them with lasting memories.
The giant helium balloon offers a fantastic opportunity to promote a brand, deliver a message or create a theme. The balloon itself can be customised to the client's request in a number of ways including projection onto the surface of the balloon.
A truly innovative and revolutionary form of entertainment, this act is guaranteed to bring the WOW factor to any event.
" Simply Breathtaking "

Special Event Magazine
" I couldn't stop watching "

Mel B
" A unique ability to combine skill with emotion "

Director of Entertainment, Walt Disney World