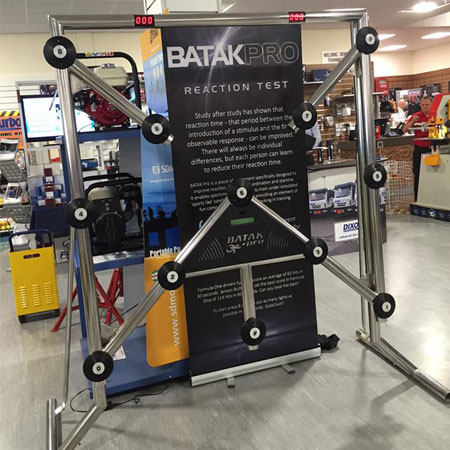 Batak Game
Fun & competitive, Batak is a totally addictive entertainment option for company team building events, malls & corporate functions
Offering guests a choice of 30-60 seconds to take part in this interactive game, they will love testing their brains & agility
Hitting illuminated buttons at random, this engaging entertainment game tests reaction speed & hand-eye coordination
Keeping scores on a leaderboard, Batak is a fantastic footfall driver for almost all occasions
Book Batak Game for events in Bristol & internationally
Leading booking agency Scarlett Entertainment specialises in high quality entertainment acts and interactive games for events in the United Kingdom and internationally. Working with clients on individual bases, our expert sales team source the perfect acts to make your event truly memorable. A unique and totally addictive engaging entertainment option, our Batak game is a sure fire footfall driver for exhibitions, malls, corporate functions and company team building days.
Giving you the opportunity to test your guests' competitive sides, this exciting game challenges both brain and braun. A quick and easy activity for your guests to get stuck into, the Batak frame contains many buttons which your guests must press the moment they become illuminated by LED lights. Testing hand-eye coordination, reaction times, peripheral vision and agility, the beauty of this game is that it is both physical and intellectual, really pushing your guests to their limits.
Giving clients a choice of 30 and 60 second time limits, a facilitator will calculate each player's score and keep the totals on a leaderboard to encourage competition. A superb form of ice breaking entertainment, young and old alike love trying out this unique and innovative interactive game.
Game specification:
- 30-60 second options available
- Polished chrome frame
- Space required W2.5m x D2m x H2.2m
- Batak Pro size 2.08m wide x 0.95m deep x 1.95m high
An engaging entertainment option and footfall driver for company team building events, shopping malls and more, the Batak backboard can also incorporate your company's branding, making it a fantastic marketing opportunity for clients. Bringing out guest's most competitive sides, get ready to see steely determination in your colleagues eyes! To find out more about booking Batak Game for your event, please contact our team at Scarlett Entertainment UK today and we will be in touch straight away.