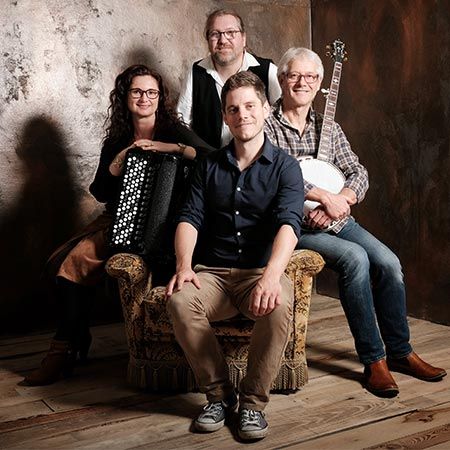 Celtic Folk Band Austria
Our traditional Celtic folk band Austria blend earthy Mississippi blues and bluegrass with folk music from the United Kingdom
Multiple programs available from Irish folk music to rhythm n blues and bluegrass to Christmas carol from England, Ireland and America
Celtic folk music fused with different sounds from Scotland, England, Ireland and America
Offering a range of performance styles from a lasting concert experience to ambient sets and more
Based in Austria and available for worldwide bookings
Celtic Folk Band Austria VIDEOS
Celtic Folk Band Austria PHOTOS
Our brilliant traditional Celtic folk band Austria are a guaranteed hit at every event as they bring a captivating energy to the stage with their exciting personalities, and top class folk music. Taking audiences on a journey though Scottish heritage this folk band boast the perfect option for any event looking to bring a hint of the United Kingdom to their event. 
Tailoring every performance to suit the occasion, our folk band can perform all Scottish folk songs as well as a customised Irish set and English set to complement the event and provide an authentic performance that is rich in culture. 
One of the top traditional Celtic folk bands in Austria our folk band have performed over 1500 converts in seven European countries, appearing on TV shows as well as bringing their own album out.
A four piece band consisting of soulful male vocals, blues harp solos, violinist, steel string, slide guitar, cajon rhythms, banjo and more our multi-instrumentalists boast a diverse performance that can be tailored to all occasions whether it be a corporate event, private party, themed event, festival or gala dinner. 
Performing music that can be tailored to ignite your audiences and get everyone up and dancing as well as providing chill out music that is perfect for creating a soothing ambience.
Our traditional folk band Austria offer three main packages:
Dublin to Virginia – a performance consisting of Celtic folk music, rhythm n blues and bluegrass
Irish Lyrical – A folk, bluegrass and blues medley
Irish Christmas – Sing Christmas carols from England to Ireland, America and mixed with Celtic folk songs 
Having performed all over, this exciting traditional folk band has appeared on various programmes on Austrian National TV 'ORF' as well as having a documentary film produced and broadcast by Magyar TV.
Our folk band also performed as representatives of the Republic of Ireland in Athens at the EU Festival, A Day of Europe in addition to performing a sell out show at a 20 year anniversary concert in Linz with Derek Bell. 
To book our traditional folk band Austria or for more information, contact our Entertainment Specialists today.