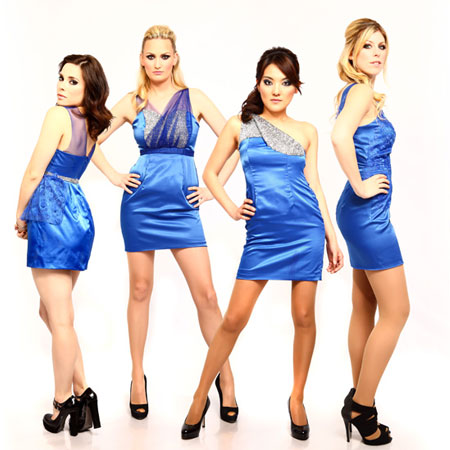 Electric String Quartet: Siren
Stunning electric string quartet includes some of the UK's top musicians
The group have performed their violin show in front of 60,000 football fans in the Jawaharlal Nehru Stadium
Supported Rod Stewart, Billy Ocean, Girls Aloud, P Diddy and more
Serious WOW factor! Based in the UK, available to perform Internationally
Can perform classical acoustic sets or pop set on electric instruments
Electric String Quartet: Siren PHOTOS
This Electric String Quartet is currently recognised as one of the UK's top entertainment acts. Graduates of the Royal Academy and Royal College of Music in London, they have been attracting worldwide attention following stunning performances in Germany, France, Italy, Korea, Greece, Ireland, Spain, Portugal and Dubai. They have been a regular feature in international and UK press including three appearances in NME magazine.
The girls have performed their show at Wembley Stadium, Ricoh Arena, Liverpool Arena and Cardiff International Arena, as well as the opening and closing shows for the Professional European Golf Championships on the Island of Cheju in South Korea. They have also been the support act for Rod Stewart, Natalie Imbruglia, Girls Aloud, Javine and Billy Ocean, as well as sharing the headline slot at ICC in Birmingham with Myleene Klass.
The girls recently appeared as soloists with the Manchester Camerata Orchestra. They have featured on many tv shows including BBC1s Later With Jools Holland, Jonathan Ross, Live At Abbey Road, Channel 4s T4 Special and BBC Radio 1.  In the last year, the quartet played at the opening of the new Ritz Carlton hotel in Oman and also at the launch of the new brand of Philip Morris cigarettes in Kuwait.
The string quartet featured on two European tours with Gnarls Barkley and appeared with the band a record nine weeks in a row on the legendary 'Top of the Pops' with their no 1 hit Crazy. They have also performed with P Diddy at Wembley Stadium, with Alfie Boe on Parkinson, Mika at Brixton Academy, Mutya, Michael Buble and Hard Fi, featured as the strings in Mark Ronson's video Valerie and recorded with The Killers, Brand New Heavies and Dutch X factor winner Lisa Hordijk. The girls have also completed a European tour as part of Simply Red's string section and performed in all of the major venues in the UK and much of Europe.
Members of the group have played with artists ranging from Kanye West and Gorillaz to Jay-Z, Take That and Dame Shirley Bassey. As classical players they have worked with Sir Yehudi Menuhin, Sir Colin Davies, Maxim Vengerov and Vladimir Ashkenazy, with the BBC Symphony Orchestra, London Symphony Orchestra, London Metropolitan Orchestra and Ulster Orchestra, and have performed in the Royal Albert Hall, Queen Elizabeth Hall, Royal Festival Hall and Barbican in London and in concert halls of over 20 cities throughout the world.
To find out how to book this stunning electric string act for your special occasion, contact our team of Entertainment Specialists today.
Beatles Medley
Best Thing I Ever Had  - Beyonce
Best Thing I Never Had  - Beyonce
Billie Jean - Michael Jackson
Bills Bills Bills - Destiny's Child
Bohemian Rhapsody - Queen
Can't Get You Out of My Head - Kylie Minogue
Candle in the Wind - Elton John
Can't Get Enough - The Saturdays
Chasing Pavements - Adele
Crazy - Gnarls Barkley
Deeper Underground - Jamiroquai
Edge of Glory  - Lady Gaga
Edge of Love - Lady Gaga
Everything I Do - Bryan Adams
Forget You - Cee Lo
Forget You - Ceelo
Groovy Kind of Love - Phil Collins
I Got  a Feeling - Black Eyes Peas
I Want It That Way - Backstreet Boys
I Will Survive - Gloria Gaynor
I'm Yours - Jason Miraz
I'm Yours - Jason Miraz
Into the Groove - Madonna
James Bond Medley
Killing Me Softly - the Fugees
Marry Me - Bruno Mars
Millenium - Robbie Williams
Paradise - Coldplay
Rock Your Body - Justin Timberlake
Ruby - Kaiser Chiefs
Rule the World - Take That
Shine - Take That
Sing It Back - Moloko
Skyfall  - Adele
Smells Like Team Spirit - Nirvana
That Boy Is Mine - Jennifer Lopez
Toxic - Britney Spears
Turning Tables - Adele
Viva La Dida - Coldplay
Rock Pop & Modern
Adagio - Mozart
Adagio Cantabile - Pathetique Sonata (Beethoven)
Adagio for Strings - Barber
Air - Bach
Air - Suite No. 3 (Bach)
Arioso - Cantata No.156 (Bach)
Arrival of the Queen of Sheba - Handel
Brandenburg - Concerto No. 2 (Bach)
Brandenburg - Concerto No. 3 (Bach)
Brandenburg Concerto No.2.3 - Bach
Chaconne - Handel
Chorale Prelude - Liebster Jesu Wir Sind Hier (Bach)
Chorale Prelude - Wachet Auf Ruft Uns Die Stimme (Bach)
Concerto Grosso - Vivaldi
Concerto Grosso - Vivaldi
Dance of the Mirlitons - Tchaikovsky
Divertimento - No.12&3 (Mozart)
Jesu Joy of Man's Desiring - Bach
Largo - The Concerto for Two Violins (Bach)
Minuet in G - Anna Magdalena (Bach)
The Four Seasons - Vivaldi
Walts of the Flowers - Tchaikovsky
...and many many more!
Baroque and Classical
Philip Morris
Ritz Carlton
Investec
Porsche
Nikon
Armani Hotel Dubai
Formula 1
Shell
HSBC
BBC
NHS
Harrods
Lloyds Pharmacy
Iceland
And many more...
OK Magazine
VW
Intel
Make a Wish Foundation
Sany
Didier Drogba Foundation
Moschino Hotel
Home Office
Gala Casinos
TUI
BP
Cafe de Paris
Tatler
La Dolce Vita
Akvinta
Bayern Munich FC
" I just wanted to say that the Quartet were absolutely amazing at the Scottish Daisy Ball in Glasgow on Saturday. They went down a storm…so don't be surprised if you get more bookings in Glasgow. They certainly have the wow factor!….an incredible act. "

Client, Scottish Daisy Ball, Glasgow
" Can I just say the girls were simply superb in the evening. I had so many comments from my clients the following day. It was an awards event and adding the Quartet really did make it a special evening for the award winners. Thank you! For anyone that has not used the girls I would strongly recommend it!! "

Home Office awards show
" ...the ultra funky string quartet.. "

CD Times
" ..the four-piece NUTS philharmonic stamping in high-heels and beating the sky with their electric green violas "

NME Magazine
" (Gnarls Barkley's) string section look particularly fine, St Trinian's style, even managing to perform perfectly synchronised dance routines from their seats, shimmying with their bows.. "

The Guardian
" ...a string quartet who start demure and soon turn demented.. "

Mail On Sunday
" ..they punch the air with their bows and perform formation seated dances when they're not playing flourishes.. "

Observer
" You were all truly sensational on Friday night. It was a treat to have you there. The setting worked just perfectly for you with the mirror panels and swathes of fabric. The music was infectious and hugely dramatic. I know all the guests loved it and set the standard superbly high for Rod to follow. He didn't disappoint but for the difference in fee, you were real value for money!!! We feel we fell upon gold in discovering you, I really hope that lots of other people strike lucky, I just can't imagine what more anyone could offer - 4 stunning girls, hugely talented and who looked like they were enjoying themselves as much as the guests. Thank you so much for what was an enormous and much talked about contribution to the evening. "

Promoter, Rod Stewart support