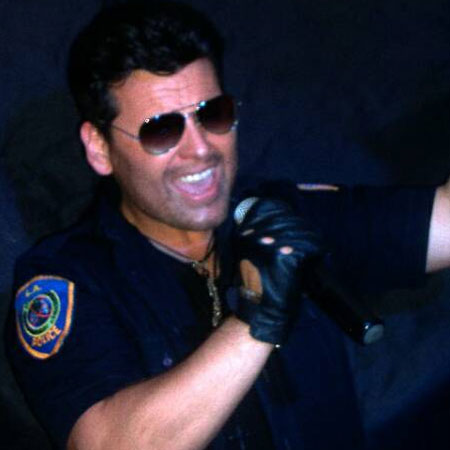 George Michael Impersonator
Outstanding tribute show to the Superstar George Michael
Both visually & vocally he has a true likeness to the great man himself
Take you on a journey from WHAM! through to his successful solo career
As seen on hit TV show Stars In Their Eyes in 2002
Available to perform throughout the UK
George Michael Impersonator VIDEOS
George Michael Impersonator PHOTOS
As seen on Stars In Their Eyes (February 2002), this act portrays 'Superstar' George Michael in this outstanding tribute show.
This amazing show is a celebration of 25 years of hit records and will take you on a journey from Georges early years with WHAM! Through to his successful solo career. Performing those everlasting hits such as Club Tropicana, Wake Me Up Before You Go-Go, Im Your Man, Faith, Fast love, Outside (complete in L.A cop uniform as seen on stars in their eyes!) and of course hits Amazing and Flawless from his No.1 album Patience. Not forgetting the romantics, his tribute would not be complete without the timeless ballads Careless Whisper, A Different Corner and Dont Let The Sun Go Down On Me.
Due to his growing reputation in 2004 Wayne was invited to perform on the 'Stars In Their Eyes' live tour which ran for 9 weeks and was a huge success. Such is his versatility he can adapt to any venue, whatever the occasion. Whether your a nightclub requiring old WHAM! tunes to dance the night away or a venue that requires a more mellow relaxed evening.
Both visually and vocally, Wayne is undoubtedly the best George Michael Tribute in the country and Europe today. A true likeness to the great man himself.
This show comes to you fully self-contained or with a full live band and is complemented by a state of the art PA, light show and costume changes.
Careless whisper
A different corner
I knew you were waiting
Living for the City (Performed at U.S grammy awards.)
I want your Sex part 1
I want Your Sex part 2
Faith
Father Figure
One More Try
Monkey
Kissing A Fool
Hard day
Sexual Healing (Nelson Mandela concert 89)
If you were my woman (Nelson Mandela concert 89)
Past time Paradise (Nelson Mandela concert 89)
George Michael 90's
Praying for time
Freedom 90
Mothers Pride
Something to Save
Waiting for that day
Heal the pain
Cowboys & Angels
Don't let the sun go down on me
I believe (When I fall in love it will be forever)
Fantasy
Too Funky
Tonight
Killer / Papa was a rolling stone (concert of hope 92)
Loves in need of love today (concert of hope 92)
Somebody to love (Freddie Mercury tribute concert)
These are the days of our lives (Freddie Mercury tribute concert)
Jesus to a child
Fast love
Spinning the wheel
It doesn't really matter
To be forgiven
The strangest thing
Move on
Star people
Star people 97
You have been loved
I can't make you love me
You know that I want to
Outside
As
Brother can you spare a dime
Roxanne
My baby just cares for me
The first time ever I saw your face
Miss Sarajevo
I remember you
Secret love
Where or When
The Long & winding road (Linda McCartney tribute concert)
George Michael 80's
If I told you that
Freeek
Shoot the dog
The Grave
Amazing
Flawless (Go to the city)
John & Elvis are dead
Round here
Patience
My mother had a brother
Through
An easier affair
This is not real love
Another star (performed at 25 live tour 07)
Idol (performed at 25 live tour 07)
Feeling good
True Faith
Love is a losing game
Russian roulette
White Light
Wham Songs
Wham rap
Bad boys
Young guns
Love machine
Nothing looks the same in the light
A Ray of sunshine
Club Tropicana
Wake me up before you go go
If  you were there
Like a baby
Heartbeat
Freedom
Everything she wants
Last Christmas
I'm Your Man
Edge of Heaven
Battle Stations
George Michael 2000's
Quality Hotels
Wolves Fc
Chicago Rock Cafe
Lava Lounge
Tiger Tiger
Novotel Hotels
Woolacombe Bay Holiday Camps
Warners
Village Hotels
Walsall Fc
West Bromwich Fc
Ramada Hotels
Gala Casino
Leicester Racecourse
Norbury Theatre
Butlins
And Many More!
Holiday Inns
" Much like George Michael himself, tribute singer Wayne certainly succeeded in building up the level of expectation. It is pretty key that such performers look like the original and Wilks didn't disappoint. Neither did his vocals and his cover of Careless Whisper was a highlight of the show. He is a confident character, exuding enough charisma to do credible homage to the ex-Wham front man "

Stage Newspaper (London)
" Just a quick line to say how much we enjoyed Wayne at our party on the 30th August. He was just what you said he was very good, professional, friendly and a credit to have on your books. "

Elaine Richardson
" We were thrilled to be the first people to ever bring Wayne to perform live in the United States. The occasion was a surprise birthday party for my wife's 50th. As a long time George Michael fan, no evening would have been complete without a little George Michael music. Why settle for digital tracks when you can have a live performing tribute entertainer instead? Wayne impressed the crowd, mixed in ages and musical tastes with his singing, dancing and crowd engagement. Every element of his George Michael alter-ego was spot on. He was so good that one late arriver to the party began video taping him because she thought he "was" George Michael! Our local production company (Rob Woolson Productions) provided a sound and lighting system that made you feel like you were at a George Michael concert, including back-projected images of Wayne live as he perfomed. My wife felt like she really had George Michael perfoming for her birthday. The guests raved about his performance, even people who weren't George Michael "fans" per se enjoyed the energy, the quality and the song choices – popular songs that everyone knew. Wayne stayed with us after his performacne to take pictures with party goers and to share stories and have fun. He even did a little dancing. My wife told Wayne he had everything that George Michael had and one thing George doesn't have – youth! A memorable evening for everyone who attended. Thanks to Wayne for making my wife's 50th birthday a night to remember for the next 50 years! "

Brent Hamachek (Chicago)