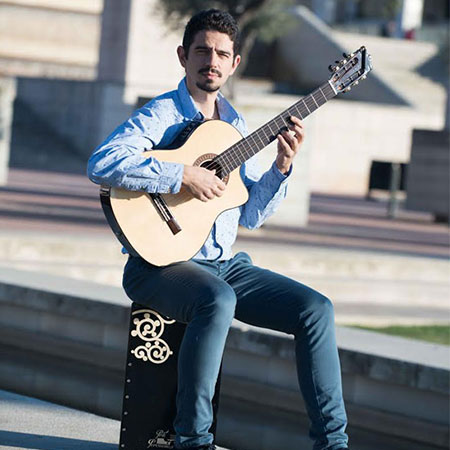 Guitarist Barcelona
An accomplished guitarist with a repertoire covering all musical styles
Performs Flamenco, Spanish, classical and Catalan guitar music
Has been broadcast live on RNE—Radio 4
Can play as a soloist or with traditional Spanish singers
Based in Barcelona and available to perform at events throughout Spain
Guitarist Barcelona VIDEOS
Guitarist Barcelona PHOTOS
Nadim is one of the most accomplished guitarists in Spain. His repertory covers all musical styles including everything from classical and flamenco to pop and jazz.  He has performed in concerts as a soloist and as performer of chamber music. He has been broadcast live on RNE—Radio 4—in the series Ciclo de Conciertos de Jovenes Interpretes de las Juventudes Musicales de Barcelona for young performers. 
From 2002 to 2008 he was a member of the Duo Helua playing together with the flautist Agata Podsiadly. From 2005 to 2008 Nadim has been a member of the Pots Contar, a group specialized in performing musical spectacles for children and in this capacity he is both the composer and guitarist. Pots Contar has marketed a story book about Don Quijote published by A Cau D-Orella. Since 2008 he has been a member of the Sal de Mar duet which sang and played Nadim's own music basically inspired by pop, jazz and Spanish music.
At present he is very focused playing as a soloist and accompanying traditional Spanish singers.  Nadim speaks English, French, Catalan, Spanish and Arabic.
Contact us today and enquire about this Guitarist based in Barcelona for your event. Our dedicated team of Entertainment Experts will be delighted to provide further details on this live music entertainment option and assist you with your booking.
Paco de Lucia (1947-2014):
Entre dos aguas
Guajiras de Lucia
Niño Sabicas (1912-1990):
Sentimiento gitano (seguiriyas)
Zapateado en re
Soleà
Trinidad (malagueña)
Olé mi Cádiz (alegrías)
Embrujo de Huelva (fandango)
Niño Miguel (1952-):
A mi padre (farruca)
Niño Ricardo (1904-1972):
De Chiclana a Caí (alegrías)
Olé mi Caí! (bulería de Cadiz)
Sierra Nevada (granaína)
Paco Cepero (1942-):
Bulería de Jerez
Castillo de Alcalá (soleà)
Esteban de Sanlúcar (1912-1949):
Panaderos Flamencos
CLASSICAL MUSIC
Joaquim Malats (1872-1912 Catalonia):
Spanish Serenata
Enrique Granados (1867-1911 Catalonia):
Spanish dances number 1 3 4 and 5
Isaac Albéniz (1860-1909 Catalonia):
Asturias (Leyenda)
Cádiz
Sevilla
Gaspar Sanz (1640-1710 Spanish baroque):
Rujero
Canarios
Miguel Llobet (1878-1938 Catalonia):
3 Catalan folk songs
FLAMENCO
Theme and variations on a theme from Mozart's Magic Flute
Mauro Giuliani (1781-1829 Italy):
Sonata (grande Ouverture)
Nadim Robert Majure (1978-):
Stars
Cosas que han pasado
Francisco Tárrega (1852-1909 Valencia):
Recuerdos de la Alhambra
Capricho Árabe
Manuel de Falla (1876-1946 Andalucia):
Romance del pescador
Canción del amor brujo
MORE PIECES:
Anonymous - Les jeux interdits
Ángel Barrios - Nostalgia de Petenera
Leo Brower - Un dia de Noviembre
Fernando Sor - Selected Minuets
Heitor Villa Lobos - Prelude number 3
Vals number 3 - Heitor Villa Lobos
Anton Diabelli - Sonata in C major
Luys de Narváez - Guardame las Vacas
Leonard Cohen - Hallelujah
Agustin Barrios Mangoré – La catedral
Fernando Sor (1778-1839 Catalonia):