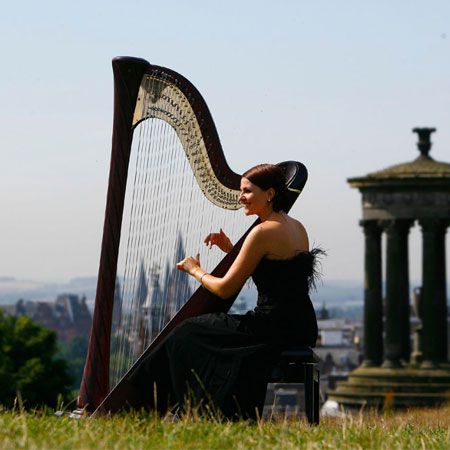 Harpist: Alina
International Harpist with virtuoso performances and imaginative programmes
Highly trained musician, has performed for royalty and high profile clients
Played at the Queen's 80th-birthday celebrations at Balmoral Castle
Her diversified repertoire includes classical, folk and jazz music
Based in London and available to perform at events worldwide
Alina is one of the most exciting harpists based in the UK. Her virtuoso performances and imaginative programmes have established her reputation as a harpist of exceptional accomplishment. She has had the honour of playing at Scottish and European Parliaments, at the Queen's 80th-birthday celebrations at Balmoral Castle and at the King of Thailand's birthday celebrations in Bangkok.
Alina studied at the F. Chopin Academy of Music in Warsaw, Poland (Masters in Arts), and The University of Arizona, USA (Masters in Music Performance).
She has performed with many major European orchestras including the Young World Symphony Orchestra, the National Opera in Warsaw and Scottish Opera.
Alina is exploring a jazz harp by working with jazz award winners Ryan Quigley (trumpet) and singer Niki King.
Her London appearances include Shakespeare's Globe Theatre and BBC Radio 3.
Classical Solo:
J. S. Bach (1685-1750) - Etudes for Harp/GrandjanySuite
J. S. Bach & C. Gounod - Ave Maria
F. Chopin (1810-1949) - Mazurka, Op 24, No 1/Posse
Raindrop Prelude Op28, No15
C. Debussy (1862-1918) - Clair de Lune
First Arebesque & Second Arabesque
Six Sonatines
M. Glinka (1804-1857) - Variations on a Theme of Mozart & Nocturne
G. F. Handel (1685-1759) - Passacaglia
P. Hindemith (1895-1963) - Sonata
J. Pachelbel - Canon in D
G. Pierne (1863-1937) - Impromtu Caprice Op 9
H. Renie (1875-1956) - Contemplation
Chanson dans la Niut, Granada, Concert fantasy
F. Schubert (1797-1828) - Serenada
M. Tournier (1876-1951) - Etude des Concert (Au Matin)
D. Watkins (1938) - Petite Suite
F.Mendelssonh - The Wedding March
J-M. Damase - Concertino (Hp/Str Or)
A. Ginastera (1916-1983) - Concerto Op 25 (Hp/Or)
A. Koss-Anatolski - Concerto (Hp/Or)
W. A. Mozart (1756-1791) - Concerto (Fl/Hp/Or)
Celtic Music Collection:
A. Macdearmid - Celtic Garland Ceol Na Clarsaich
K. Robertson - Treasure of Celtic Harp
S. Woods - Fifty-Two Scottish Songs
A. Ray Fantazzia
I. Berlin Alexander's Ragtime Bugle Band
E. John Circle of Life from "The Lion King"
G. Gershwin American in Paris and Rhapsody in Blue/Fell
R. Rodgers My Fanny Valentine
J. Merser Moon River
H. Carmichael Georgia On My Mind
A. Lewandowski Tango
G. Gershwin The Man I Love
L. Webber Memory
M. Jarre Somewhere My Love from "Doctor Zhivago"
E. de Curtis Sing to Me
M. Albert Feelings
L. Bernstein Music from "West Side Story"
B. Joel Piano Man & The Stranger
F. Neil Everybody's Talking from "Midnight Cowboy"
M. Sherman It's A Small World
J. Revaux My Way
E. Blake Memoris of You
B. Andres - Preludes Book 1 2 3 Absidioles
No.1 (BWV996)/Jamet
L. Van Bethoven (1770-1827) - Fur Elise Ode to Joy
Prelude Op 28, No 6
Prelude in C Minor
The Girl with the Flaxen Hair
J. L. Dussek - Sonata in C Minor/Zabaleta
G. Faure (1845-1924) - Impromptu Op 86
M. Grandjany -Fantasie on Theme oh Haydn
A. Hasselmans (1845-1912) - Feuilles D'Automne Op 45, 46 & 47
F. Mendelssohn (1809-1847) - Songs Without Words
G. B. Pescetti (1704-1766) - Sonata in C Minor
S. Prokofiev (1891-1953) - Prelude Op 12 no 7
C. Salzedo (1885-1961) - Variations on a Theme in Ancient Style
H.Purcell - Wedding March (Trumpet Voluntary)
L. Spohr (1784-1859) - Fantasie Op 35
Feefie, Jazz Band Op 33
R.Wagner - Bridal Chorus
Harp Solo with Orchestra or Band:
C. Debussy (1862-1918) - Danses Sacree et Profane (Hp/Str Or)
C. F. Handel (1685-1759) - Concerto in B Flat Op 4 No 6 (Hp/Or)
W. Lutoslawski (1913) - Duble Concerto (Ob/Hp/Ch Or)
H. Villa-Lobos (1887-1959) - Concerto in D Major (Hp/Or)
S. Curcio - Scottish Harp Music
D. Rees-Rohrbacher - Harp Preludes for Church Old Welsh Airs
R. Williamson - Legasy of the Scottish Harpers
Jazz & Pop:
E. Hagen Harlem Nocturne
A. Bzhezhinska Lemky's Ballade & Boogie
J. Livingston Silver Bells
J. Williams Cantina Band (McLaughlin)
B. Srtayhorn Take "A" Train (McLaughlin)
L. Bonfi Black Orpheus
H. Arlen Somewhere Over the Rainbow
A. Menken Beauty and the Beast
F. Lai A Man and a Women
G. Miller Moonlight Serenade
P. de Senneville Lettre a ma Mere
J. Mercer Autumn Leaves
D. Weiss What a Wonderful World
L. Richie Endless Love
P. Collins Do You Remember & Another Day in Paradise
G. Michael Careless Whisper
M. Torme The Christmas Song
N. Rota Romeo and Juliet
" Alina played with conviction,...a strong sense of rhythm and superb use of dynamics. "

Three Weeks, Edinburgh
" Alina really demonstrates her skill and no string is left unused... "

Music Maker Magazine