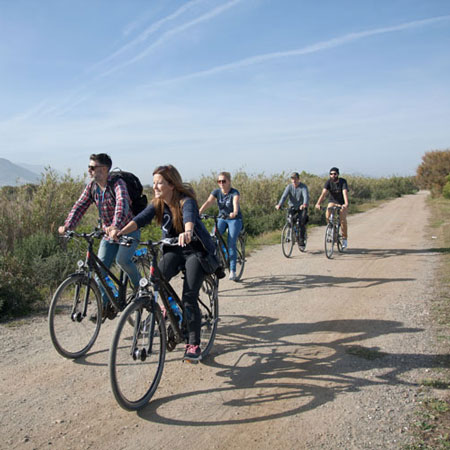 Malaga Urban Nature Bike Tour
Explore non-touristic parts of Malaga with this exceptional bike tour
Experience nature and wildlife without leaving the city
Ride along the river, to a nature reserve and botanical gardens
Guided tours available in multiple languages and for various group sizes
Tour takes place in Malaga, Southern Spain
Malaga Urban Nature Bike Tour PHOTOS
The spectacular Malaga urban nature bike tour takes you and your guests away from the hustle and bustle of the city to explore nature and wildlife without ever leaving Malaga. This Spanish sightseeing bike ride experience lets you discover parts of the city that are not your typical tourist attractions and lets you see an completely different side of the city. 
Lasting around three hours our Malaga urban nature bike tour includes the use of a Radon trekking or lightweight mountain bike, helmet and bottled water. Ranging from 25 to 30 kilometres, the guided bike tour is an outdoor adventure for nature lovers. Available for groups of up to 100 the activity can be tailored to suit preferences and requirements to maximise the experience. This outdoor adventure is available for private bookings on customisable routes. 
The Malaga urban nature bike tour lets you and your guests ride to the mouth of the Guadalhorce river and the neighbourhoods along the Misericordia beach. On this guided bike you will get to see a wide range of greenery and wildlife. The trek will take you to wildlife observation points in the Guadalhorce nature reserve as it is on one of the main bird migration routes between Africa and Europe.
Booking Tips:
• Explore nature without leaving the city 
• Three hour activity
• Multilingual staff
• Can keep the bike overnight for an extra fee 
Contact our destination experts at Scarlett Entertainment to book your guests a unique Spanish sightseeing experience with the Malaga urban nature bike tour.