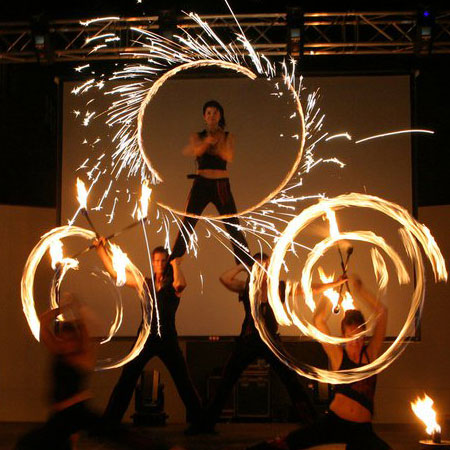 Pyro Show
Burning circles of flames & showers of sparks create a stunning spectacle
Explosive, high-impact & dynamic performance will WOW audiences
Act can be tailored to suit indoor & outdoor venues of any size
Also offer a fire show & LED / UV show
Based in Bratislava, Slovakia & available for events worldwide
Looking for something that will bring the WOW factor to your event? Look no further, this show is guaranteed to leave a lasting impression as dazzling circles and fountains of light are created by dancers dextrously twirling tools spewing showers of sparks and flames.
This is a visual spectacle like no other and can be altered to fill stadium stages or indoor theatres. An expert team, they can carry out stunning shows even in the most intimate of premises, without the unpleasant side effects of a common pyro show such as smoke, using the latest pyrotechnic technology.
If you are interested in booking one of our dazzling fire acts for your upcoming special event, contact our exceptional Scarlett Entertainment team members who are waiting to assist you with your booking needs.
Porsche & Audi Opening Bratislava June 2008
Party of the Microsoft Company Kenvelo Fashion Café Bratislava December 2003
Muscat Festival Muscat Oman January 2006
FIFA World Cup 2009 opening Alexandria Egypt September 2009
Mercedes company ball Grand hotel Praha Tatranska Lomnica February 2005
Samsung event Delhi India April 2010
Volvo company eventCafe Domenico Bratislava December 2004