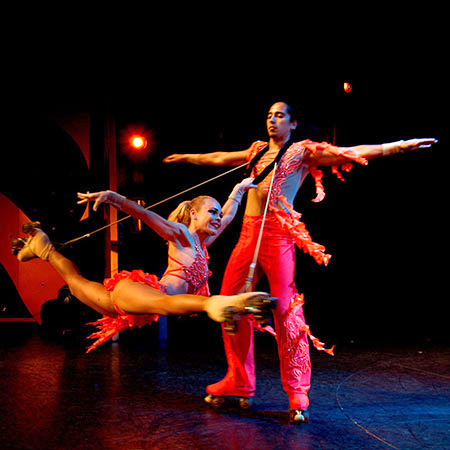 Roller Skating Duo
High-energy acrobatic show will wow guests at your event
Perform incredible spins, lifts, and twists whilst on roller skates
Fluent in English, Spanish, and Russian
Have performed for audiences all over the world
Based in Alicante and available to perform at events worldwide
Roller Skating Duo VIDEOS
Roller Skating Duo PHOTOS
Our amazing roller skating duo based in Alicante are in high demand throughout Europe due to their high-adrenaline, gravity-defying shows featuring incredible acrobatics. With fantastic stunts including spinning by their necks and hanging by their toes, they will captivate and astound guests at your event.
With many years of experience performing their incredible roller skating tricks, the duo make sure to deliver an exciting and high-quality show every time, with their professionalism and passion coming through in every performance.
Wonderfully talented performers who will bring an atmosphere of awe and energy to any occasion, our roller skating duo are the perfect entertainment for your event. Loved by people of all ages, this duo's roller skating routines are always widely applauded by audiences of all sorts. Happy to fully adapt their routines to fit your theme or suit your requirements, our roller skating acrobats can customise their acts by wearing different costumes, performing to music of your choice, etc.
Able to adapt to different performance spaces, our acrobatic roller skaters need little room to perform, which makes their performances even more spectacular and suitable for all venue sizes! 
Having performed for both small and large audiences worldwide, our roller skating duo is an in-demand cruise ship entertainment option. Their roller skating shows are also popular for corporate events, after dinner experiences, gala dinners, themed events, and many more! 
Scarlett Entertainment offers a wide range of roller skating shows for events and occasions in Spain and worldwide. 
Contact us today if you're interested in booking this sensational Roller Skating Duo. Our in-house team of Entertainment Experts will be delighted to answer all the questions you may have about this acrobatic duo and assist you in the booking process.