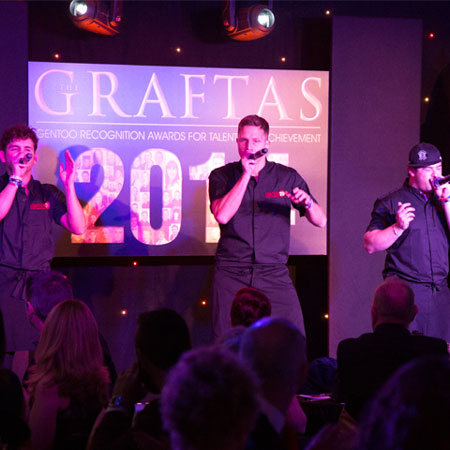 Surprise Beatboxing Waiters
Our speciality singing waiters perform an urban alternative for a surprise performance!
Performing a beatboxing flash mob style show, our singing waiters will emerge as if from nowhere!
A unique and high-impact performance sure to go down a storm with guests
Perfect for adding attitude to corporate event entertainment, weddings, charity galas, awards ceremonies and more
Based in Leeds, UK, our Surprise Beatboxing Waiters are available for international bookings
Surprise Beatboxing Waiters PHOTOS
Looking for unique and high-impact corporate event entertainment? Look no further than our fantastic Surprise Beatboxing Waiters whose live performance is sure to go down a storm!
Bringing a fresh and memorable show to your event, our alternative to singing waiters deliver a contemporary edge to this classic surprise corporate event entertainment. 
Our trio of beatboxers for events can tailor their show to include branding and names for a truly special and bespoke performance. Acting as a beatboxing flash mob, our urban singing waiters mingle undetected in your crowd before launching into song.
Guests will delight in suddenly realising what's going on and clamour to take snaps or video clips of our incognito singing waiters as more artists join in the beatboxing flash mob. 
A groundbreaking vocal trio who can transform their combined voices to sound like any genre of music, our beatboxers for events are widely noted for their unique ability to remix popular hits using only their mouths.
The perfect little extra for adding spice to sit down dinners and drinks receptions, our beatboxers for events are perfectly suited to weddings, corporate events, awards ceremonies, gala dinners and more.
Top Tip:
Also able to offer beatboxing and world class DJ sets, add live DJs couple with beatbox performances and bespoke keywords, logos or branding displayed as part of the DJ set up.
Scarlett Entertainment offers a range of singing waiters and beatboxers for events in the UK, Europe, US, Middle East and beyond. Discover more thrilling corporate event entertainment on our extensive roster including beatboxing, flash mobs, singing waiters and more.
To book our Surprise Beatboxing Waiters to shock and thrill guests at your next event, get in touch with our team of Entertainment Experts who'll be happy to help.
Soundwave Festival Croatia
Dubai Government
Apollo Theatre Harlem New York City
FA Cup Final
Silverstone
02 Arena
Carling
Glastonbury
British GP
Quantas
NFL Superbowl
MotoGP
02 Indogo
HSBC
Ynot Festival
Abu Dhabi GP
Hamilton the Musical
BBC
Formula 1
Microsoft
Crossrails Canary Wharf Launch
...and many more!
Singapore GP
President of Singapore and Her Family
Sky
Club Wembley
Brands Hatch
Novotel
Chelsea FC