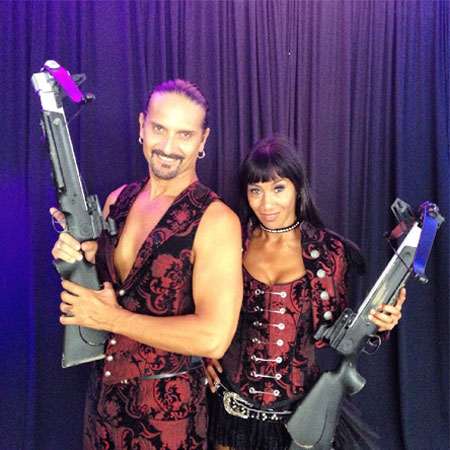 Crossbow Stunt Act
Crossbow Stunt Duo demonstrate the ultimate in trust, courage and focus
Guaranteed to electrify your event with serious excitement and drama
Astound with their dancing, martial arts and precision crossbow marksmanship
Clients can create shows that are completely unique to their special event
Based in Las Vegas and available to perform at events worldwide
Crossbow Stunt Act VIDEOS
Crossbow Stunt Act PHOTOS
Crossbow Stunt Act demonstrates the ultimate in trust, courage and focus by shooting impossible targets with death defying accuracy!
Electrifying your event with excitement, this unique and exciting integration of dancing, martial arts and precision crossbow marksmanship astounds and thrills audiences. Never static, but always on target, they continuously create new material and can custom make an exciting segment for any occasion including:
• Corporate/Special Events
• Television/Video/Film Appearances
• Variety/Burlesque/Cabaret
• Grand Scale Production Shows
Performances can run anywhere from 2 to 15 minutes, either as a stand alone act or integrated within a cast of dancers, singers, musicians and other performers. Clients are able to choose from an array of themes, songs and dance styles to ensure that each performance is completely one of a kind!
The daring stunt duo are seasoned professionals with extensive performing credits, which include Broadway musicals, large production shows, intimate cabaret, plus National and International television shows. In fact, they were one of the few specialty acts to have appeared on The Tonight Show with Conan O'Brien and have worked with recording artist Britney Spears for the opening video segment of her Circus tour!
What are you waiting for? Crossbow Stunt Act guarantees to bring an abundance of drama and ensures each of your guests are on the edge of their seat with excitement!!
Veneno /Dago Gonzalez - Director
Hyundai
MGM Grand Resort & Casino
Harrah's Resort & Casino
Dos Equis Beer – The Most Interesting Show in The World
Jamie King – Director/Choreographer
Rite Aid
Mandala Bay Resort & Casino
And Many More
The Box Nightclub New York City
" A HERO WITH LEGS" Spider-Man climbs walls, flies through space and during final moments swings over the heads of the audience, leaving fans like my son, Mathew, crying, Awesome! "

THE NEW YORK TIMES - FEBRUARY 8, 2003
" "The scene in which crossbow artist fired arrows through inflated balloons covering performing partner Naomi was worth the admission price on its own. "

THE LAS VEGAS SUN - MAY 25, 2010
" At its best, this "Pippin" is all about effects" ... "to dazzling stunt work. "

CTNOW.COM - AUGUST 4, 2006
" Audiences will be dazzled by a blend of sexiness and danger. The entire show is relentlessly, vividly choreographed. It's raucously sexy in one number, then silkily erotic the next. There's no visual whiplash, though; it just works, seamlessly, elegantly. "

VEGAS SEVEN MAGAZINE - MAY 12, 2011