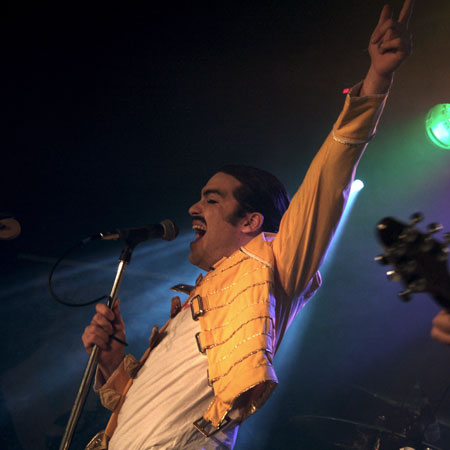 Queen Tribute Show
Reproduce the same high energy show that became the trade-mark of Queen
Performed at some of the most prestigious events throughout Europe
Maximise audience participation and enjoyment with Queen's greatest hits
Previous clients incl BBC, RAF, Royal Navy, British Army, IOD London...
Based in the UK and available to perform at events worldwide
Queen Tribute Show PHOTOS
Formed in 2005 after a year in a rehearsal studio, this 5-piece Queen Tribute band has delighted audiences all over the world and has performed at some of the most prestigious events from Hampton Court Palace to Fribourg Festival Switzerland. Corporate clients include the BBC, RAF, Royal Navy, British Army, IOD London, Dabs Awards Ceremony, and the Official Queen Fan Club.
Their tribute show is perfect for festivals, awards evenings and conference gala dinners, private events, weddings, theatres. Recently they returned from a successful 4 week tour of India and are scheduled to play numerous festivals across Europe including in Italy, Portugal, Holland, Belgium and Switzerland.
The live tribute band are guaranteed to maximise audience participation and enjoyment with Queen's greatest hits. Their performance is as much a visual experience as it is a listening one. There are numerous costume changes available covering the glamour rock days of the 1970's to the Magic years of the 1980's. Costumes of course include an authentic Hoover Junior and a full length Robe and Crown.
Although the world will never again see Queen perform with the great Freddie Mercury, this tribute group will, with breath-taking accuracy, reproduce the same high energy show that became the trade-mark of the world's greatest rock band.
Get in touch with our team at Scralett Entertainment to book this tribute show for your event. 
A Kind Of Magic
Another One Bites The Dust
Bicycle Race
Bohemian Rhapsody
Brighton Rock
Crazy Little Thing Called Love
Death On Two Legs
Fat Bottomed Girls
Friends Will Be Friends
Hammer To Fall
I Want It All
I Want To Break Free
Killer Queen
Now I'm Here
One Vision
39
Radio Ga Ga
Seven Seas Of Rhye
Somebody To Love
Tear It Up
The Show Must Go On
Tie Your Mother Down
Too Much Love Will Kill You
Under Pressure
We Are The Champions
We Will Rock You
We Will Rock You (Fast)
Who Wants To Live Forever
You're My Best Friend
Play The Game
BBC
Royal Navy
IOD London
Official Queen Fan Club
And Many More!
Hampton Court Palace
RAF
British Army
Dabs Awards Ceremony
Snowdome
Fribourg Festival Switzerland
" ...the return of The Champions... "

KARUNA BATRA
" Saw you at Fake Fest with my wife, utterly brilliant. When/where can we see you next? "

ANDREW FANNER
" ...This 10e edition is the best performance in 10 years...your Tribute is the best in Europe "

ERIK OSAER - ORGANISER
" ...The Return of The Champions, I don't think we can remember such a large & excited crowd... "

JOHNATHAN GRIMA
" ...I was there too in Nieuwkuijk, awesome show, Freddie will be proud of you... "

KEES ELAND
" ...electrifying performance, you will definitely be coming back to play for us again... "

JEAN-CLAUDE CHASSOT
" A fantastic show that will not be forgotten, St Mary's Band Club welcome you back to Malta anytime. We Were Rocked! You
Are The Champions "

MAESTRO JOE BROWN
" ...your rendition of Queen was spot on fantastic... "

GRAHAM ROBERT CHIVERS