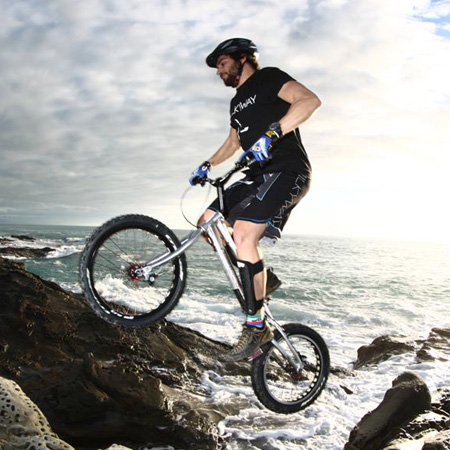 Italian Trial Bike Rider
Award-winning, Italian bike trial rider with 7 years of experience
The professional discipline is an extreme test of bike handling skills
Combines incredible balance, skills, technique and strength
Italian Champion circuit trial competitor for 5 years in a row
Based in Saronno, Italy and available to perform at events worldwide
Italian Trial Bike Rider PHOTOS
Italian Trial Bike Rider Paolo began bike trailing 7 years ago, and has since made his mark in the Bike Trial world with his incredible balance, skills and technique.
The discipline is an extreme test of bicycle handling skills, over all kinds of obstacles, both natural and man made. The objective is to pass through the sections with as little physical contact with the ground as possible, hence obtaining minimum penalty points.
Paolo has participated in many competitions ranking high in all; the UCI World Cup, ranking 17th out of 104, and is the first Italian to ever achieve this. He has also won the Italian Champion Elite circuit trial competition for 5 consecutive years, classifying with an absolute best finish ever for an Italian.
Bike rider Paolo has performed at least 40 performances with the Bike Trial Show Brumotti, 12 performances with No Limits Bike Trial Walter Belli, 20 with the Troop Pirate Emanuel Angi and Arturus Coutard and at least 90 others organised by himself at fairs, municipalities and various events.
For events can be present alone or with other bikers excellent, and can also coordinate shows with Daniele Doria, the best Parkour freestyler in Italy.