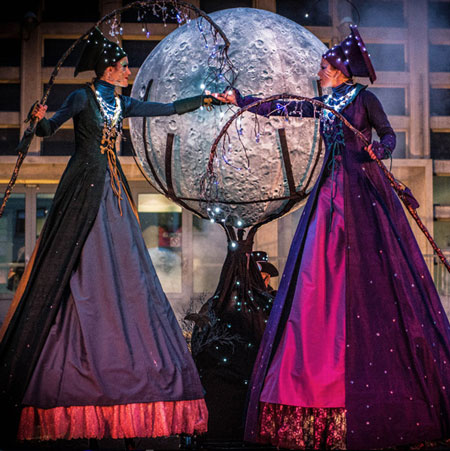 Starlight Stilt Walkers
A spectacular show that explores the magic and beauty of the stars at night
Features two stunning stilt walkers with incredible custom-made costumes complete with twinkling lights
Performances orientate around a magnificent moon-shaped prop that is sure to dominate your event space
Available as a short walkabout act or a long theatrical performance to entertain guests of all ages
Great for themed parties, public events, festivals and Christmas celebrations
Starlight Stilt Walkers PHOTOS
Our Starlight Stilt Walkers offer a spectacular outdoor show that explores the beauty and magic of the stars at night. The fantasy walkabout act is an amazing option to mix and mingle with your guests as well as offer a staged performance with music, illuminations and pyrotechnics. 
Magical outdoor show§s for all audiences 
Based around a two-piece illumined stilt act and their chaperone, this fantasy walkabout act provides an outdoor show that appeals to audiences of all ages. The performances orientate around a magnificent moon-shaped prop that dominates any event space. The stilt walkers have beautiful custom-made costumes complete with twinkling lights and accompanying props. They offer a very visual and interactive experience that combines enchantment, story-telling, poetry and a beautiful pyrotechnic display. 
Create an impact with an illuminated stilt act
This stunning fantasy walkabout act is a great choice of family-friendly entertainment for city centre festivals, public events, themed parties, festivals, Christmas celebrations and much more. The Starlight Stilt Walkers can move around freely and their moon is on a small tricycle which can accompany them wherever they go. 
Fantasy walkabout act for events worldwide
Our Starlight Stilt Walkers' outdoor show has been performed hundreds of time around France and Europe and can be translated into English or Italian. If you are interested in having this magical illuminated stilt act at your event, don't hesitate to contact us.