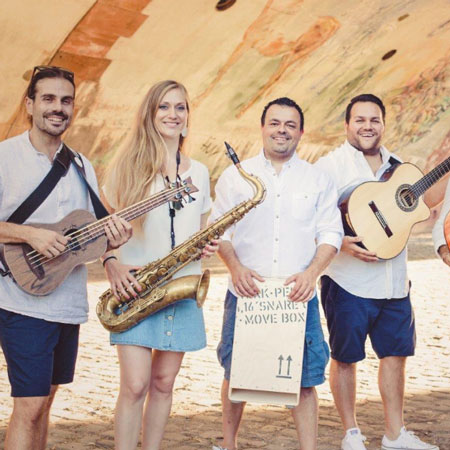 Frankfurt Acoustic Rumba Band
Deliver a fusion mix of Spanish and Latin music with the latest pop hits
Guests can join in with instruments provided to form part of the Frankfurt Acoustic Rumba Band
Available as a mobile band or as a stage show, this band can also perform as a duo, trio or an entire band.
Previous clients include Jaguar Land Rover Excellence Club and Burda Direct Summer Festival
Available to hire in Frankfurt, Germany and across Europe
Frankfurt Acoustic Rumba Band PHOTOS
Our interactive musicians enable the audience to join in with your event by handing out small instruments. This participatory element of this act will transform your event and engage hundreds of guests throughout the day. 
Roaming Spanish Band in Frankfurt
This entire Spanish band will mix and mingle with guests at your event with their 'unplugged' instruments, no wires, or any technical requirements are needed for this one of kind Frankfurt roaming band. Guaranteed to deliver a vibrant vibe at your event, audiences can't help but dance and participate with this lovely band. 
Frankfurt Acoustic Band - Stage Show
This incredible band are available to hire as a stage show with two traditional Spanish guitarists, a saxophonists a ukelele player, a box cajon drummer and vocalists. 
With previous clients such as the Jaguar LANDROVER Excellence Club 2017 and Burda Direct Summer Festival, this talented group of interactive musicians understand the importance of professionalism and fun. 
If you would like to hire this roaming Spanish band with Interactive musicians based in Frankfurt then please speak to our dedicated team who will help you through the booking process.