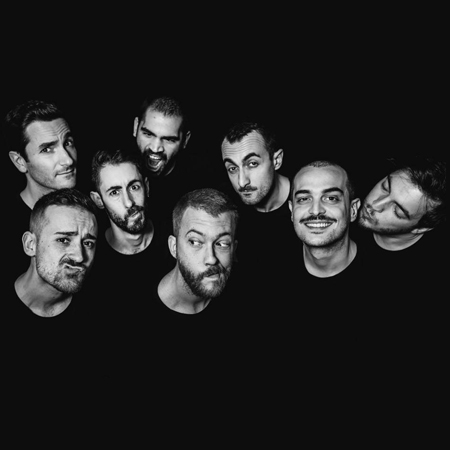 Swing Band Rome
Popular eight-piece Swing Band that captivate audiences with fresh and electrifying sounds
Highly recommended for Weddings and Corporate Events in Italy
Huge set list inc Italian Swing music to American Swing and Popular covers
Suitable for during dinner and also perfect to dance to after dinner
Based in Rome, Italy and available to perform Worldwide
Popular Swing Band available for Weddings and Corporate Events in Rome and across Italy.
Available as a eight-piece line up with stunning vocals, double bass, guitar, saxophone, trombone and drums.  Performing a set list including Italian Swing music to American Swing and Popular covers.
Their set list is rich and varied, suitable for during dinner and also perfect to dance to after dinner.
Contact our team of Entertainment Experts who will be more than happy to help with your enquiry.
All of me - Various
Autumn leaves - Various
Black coffee - The Careless Lovers
Blue bossa - Kenny Dorham
Bossa Antigua - Paul Desmond
Cantaloupe island - Herbie Hancock
Caravan - Duke Ellington
Chase the devil - Max Romeo
Che si fa con le fanciulle - Renzo Arbore
Cielito lindo - Traditional
Dream a little dream of me - Various
Estate - Bruno Martino
Exactly like you - Nina Simone
Fly me to the moon - Frank Sinatra
Freddie freeloader - Miles Davis
Garota de Ipanema - Antonio Carlo Jobim
Guaglione - Aurelio Fierro
Guarda che luna - Fred Buscaglione
Hound dog - Elvis Presley
I got you (I feel good) - James Brown
I like pie I like cake - Four Clefs
I quattro ciucci (The darktown strutters ball) - I Campanino
I wanna be like you - Louis Prima
I've found a new baby - Spirit Rhythm Band
Il pinguino innamorato - Silvana Fioresi
In cerca di te - Nella Colombo
A me m' piac' o blues - Pino Daniele
Je ne veux pas travailler (Sympathique) - Pink Martini
Jump jive and wail' - Louis Prima
Just a gigolo - Louis Prima
L-O-V-E - Nat King Cole
Love me or leave me - Nina Simone
Mercy mercy mercy - Julian Cannonball Adderley
Minnie the moocher - Cab Calloway
My baby just care for me - Nina Simone
Natalino Otto medley - Natalino Otto
On the sunny side of the street - Ella Fitzgerald
Pennsylvania 6-5000 - Glen Miller
Personalità - Caterina Valente
Pippo non lo sa - Trio Lescano
Quizas quizas quizas - Nat King Cole
Rehab - Amy Winehouse
Sing sing sing - Louis Prima
So what - Miles Davis
Summertime - George Gershwin
Sway - Dean Martin
Tenor madness - Sonny Rollins
The Charleston - James Johnson
Three little birds - Bob Marley
Tu vuo' fa' l'americano - Renato Carosone
Twisted - Annie Ross
Una ragazza in due - I Giganti
When the Saints go marching in - Louis Armstrong
In the mood - Glen Miller