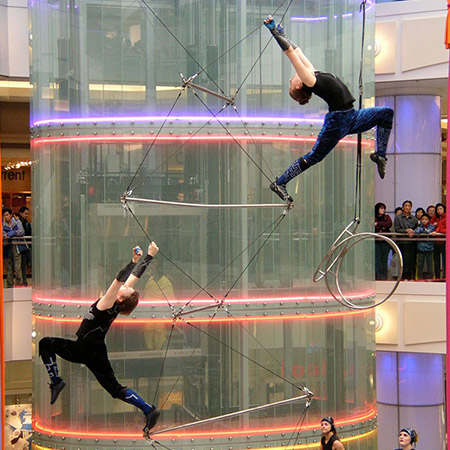 Aerial Skyladder
Unique and innovative aerial show that will astonish your guests
Experienced and talented aerial acrobats move with grace and finesse
Aerial skyladder can be performed as a solo act or as a synchronized act with multiple artists
Fantastic for corporate events, festivals, themed parties, weddings and much more!
Based in Vancouver, Canada and available for hire worldwide
Our unique aerial skyladder is an enchanting display of strength, power and agility.
The stage for this aerial show is a delicate collection of bars and wires that reach up to 34 feet in length and leave the aerialists suspended in the air up to 40 metres high. Our talented aerial acrobats effortlessly travel up and down the impressive length of our incredible skyladder using the wires, bars and each other to influence their movement. 
Our aerial skyladder is a fantastic addition to any corporate event. Our talented acrobats can be hired to demonstrate the effectiveness of co-operation at a team building event or break the ice at a networking event. Whatever your event our aerial sky ladder gives a real focal and talking point to guests as they watch our aerialists and acrobats perform. Our aerialists would also make a perfect addition to a circus themed event, award ceremony, wedding or other private occasion. This is a fantastic opportunity to hire a one-of-a-kind aerial act for your event. 
Book our Aerial Skyladder today!
Top Tip:
Chat to our entertainment specialists to find our all the technical details required when booking this aerial skyladder. Have any questions? Our entertainment specialists will be happy to help.