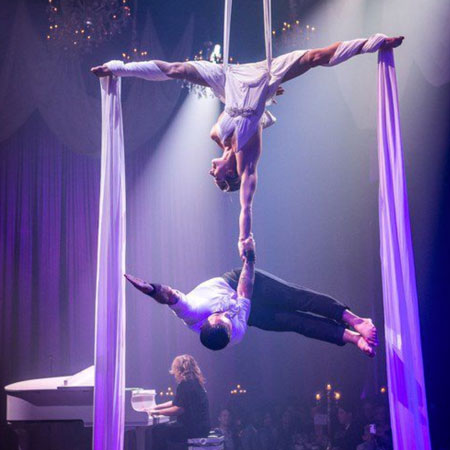 Montreal Aerialists
Versatile aerialists based in Montreal can wear bespoke costuming to match your theme
Available as solo performers as well as duos, trios and group numbers
Guaranteed to astound and amaze these high-end aerialists stun from above and make for the ultimate corporate entertainment
Perfect for corporate events, private parties, themed events, gala dinners and more
Based in Montreal, Canada and available for worldwide bookings
Montreal Aerialists PHOTOS
Our versatile Montreal Aerialists wow audiences with their stunning ambient performances and create unforgettable corporate entertainment that is a must have at every event. Our aerial performers can wear bespoke costumes to match your theme and colour scheme and create a mesmerising addition to all events. 
Available as solo aerial performers as well as a duo, trios and group numbers these Montreal Aerialists provide corporate entertainment for events of all sizes. With female and male aerial acts available, our performers can perform romantic and dynamic routines that are a delight to watch. 
Guaranteed to astound and amaze these high-end aerialists stun from above and make for the ultimate corporate entertainment. Whether you desire ambient entertainment or wow factor stage shows, our Montreal Aerialists can customise their performances to impress your guests and complement your event effortlessly. 
Not only do our aerial performers create mesmerising corporate entertainment options but they also add to the overall impact of your venue and event decor. You can even book multiple aerial acts for event and scatter them throughout the evening, from champagne aerialists who welcome your guests to ambient silk aerialists and wow factor trios and group numbers for the main attraction.
Perfect for corporate events, private parties, themed events, gala dinners and more, our highly talented Montreal Aerialists create unforgettable moments and are perfect for setting the scene. 
Available as silk aerialists, trapeze artists, champagne aerialists and more these exceptional Montreal Aerialists can customise their performances to create custom-made corporate entertainment that is a delight a watch. 
To book our versatile Montreal Aerialists or for more information about booking aerial performers for your corporate entertainment, contact our Entertainment Specialists today.