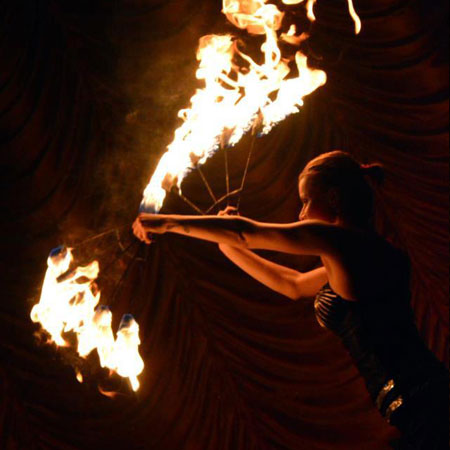 Fireshow
Sensational fire show combing costumes, music, dance and fire
Romantic duets, daring group shows, flaming hula-hoops, staffs, batons…
Have performed in 15 countries across three continents
Can also perform Pyro and UV shows
Based in Bratislava, Slovakia and available for events worldwide
This act is more than just a fire show; stunning costumes, exciting music, and perfectly synchronised choreography are combined to create a unique and captivating performance that will WOW audiences.
They offer a wide range of performances from romantic duets and daring group acts to dynamic performances with flaming hula-hoops, staffs, batons and more. Experienced professionals, this fire group can perform indoors as well as outdoors and even in the most unusual venues.
Their dramatic performances create a truly impressive visual spectacle that has been applauded by audiences across 15 countries and 3 continents, and will undoubtedly give your event the WOW factor.
If you are interested in booking one of our dazzling fireshow acts for your upcoming special event, contact our exceptional Scarlett Entertainment team members who are waiting to assist you with your booking needs.
Porsche & Audi Opening Bratislava June 2008
Muscat Festival Muscat Oman January 2006
Mercedes company ball Grand hotel Praha Tatranska Lomnica February 2005
Volvo company eventCafe Domenico Bratislava December 2004
Party of the Microsoft Company Kenvelo Fashion Café Bratislava December 2003
FIFA World Cup 2009 opening Alexandria Egypt September 2009
Samsung event Delhi India April 2010