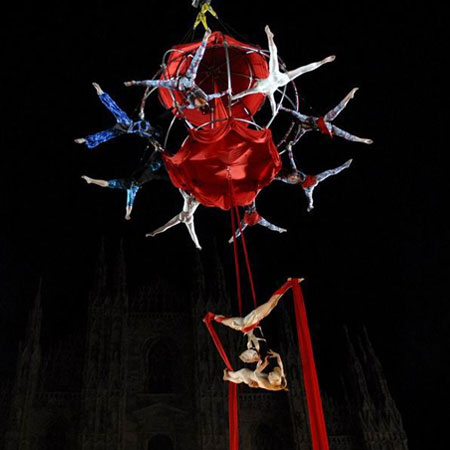 Flying Acrobats
Create unforgettable aerial acrobatic shows for big international events
Performed at the opening of UEFA Euro 2012, Kiev in front of 80,000 people
As seen on French television show The Best le meilleur artiste
Previous clients include Ferrari, Versace, Philip Morris and Mercedes
Based in Italy and available to perform at events worldwide
The Italy based Flying Acrobats propose shows and performances for SMALL and LARGE Events all over the World (ADC Award - Mumbai India, 125 years DZ Bank - Frankfurt Germany, EWB - Dubai, Patras Carnival, Closing Ceremony at the Olympics in Turin, Ducati Party, Milan Carnival, Celebration of the 500 years from Palladio's birth, Philosophy Festival, Asti Theatre, etc.. ).
The Flying Acrobats were born in 2001 and currently perform four different breathtaking aerial acrobatic shows:  the first two are performed in the open air hanging from a crane; the other two are performed hanging from a trussing structure or from a theatre grill.  If required, they can also perform mini-shows drawn from their main spectacles, using 2 acrobats and more.
The aerial group are a popular choice with those looking to push the boundaries and offer guests a dramatic and truly impressive visual spectacle, making them an ideal entertainment option for corporate events and product launches!
They have has created and developed unforgettable custom shows for big international Events and for Firms, enterprises and institutions of international importance.  A selection of their previous corporate clients include Ducati, Ferrari, Armani and DZ Bank.
Contact one of our Entertainment Team who will be able to assist you in booking this or any other act on our global roster.
Opening Ceremony of Kiev Stadium (Ukraine) for Euro Football Championships 2012
Opening Ceremony Fencing World Championships Turin 2006
International Horses Show of Ajman (UAE) 2012
Celebration of the 125 years DZ Bank Establishment - Frankfurt (De) 2008
Patras Carnival Greece - 2010
ADC EFFIE'S 2008 Event– Mumbay (India) 2008
Foundation Stone LAC – Lugano (Switzerland) 2010
Souk Grand Openining – Beirut (Libanon) 2010
Assicurazioni Generali – Incentive Djerba (Tunisia)
Unicredit Bank – XI Garmisch – Austria 2008
BIG ITALIAN EVENTS
Municipality of Milano – Carneval 2009
Municipality of Genova – New Years Eve 2010 – "Meraviglia"
Lombardia Region – New Head Office Inauguration – January 2010
Municipality of Lecce – 2011 "MERAVIGLIA"
Municipality of Soverato (Calabria) – FESTA DEL SOLE 2011
Municipality of Imola – "Imola in Musica" 2009
Municipality of Milano –Ambrosian Carneval 2008 and 2009
Gran Galà of Ice skating 2007 – Verona Municipality of Pescara – Opening of
Teatro Coccia – Novara – "Di Ke Kolore è la luna?"
Teatro delle Celebrazioni – Bologna- "Di Ke Kolore è la luna?"
Teatro Superga – Nichelino – Cabaret Festival in pink
Teatro Rendano – Cosenza – "Alakreis il Re sepolto nella leggenda"
Teatro Politeama – GENOVA– "Meraviglia" – tour 2011
Teatro Nuovo – TURIN – "Meraviglia " – tour 2011
Teatro Sociale – Trento – "Meraviglia " tour 2012 – 3 replies
Teatro Geox – Padova - "Meraviglia " tour 2012
Teatro Puccini – FLORENCE - "Meraviglia a Teatro" tour 2012 – 2 replies
Teatro Nuovo – TURIN – "DUUM" debut 2012
Teatro Nuovo – Repubblica di San Marino - "Meraviglia" tour 2012
Teatro Romano – Ferento/Viterbo – "Meraviglia" tour 2012
Teatro Verdi – Florence – "DUUM" tour 2013
Teatro "La Fenice" – Senigallia ANCONA - "Meraviglia" tour 2013
Teatro Orfeo – Taranto – "DUUM" tour 2013
Teatro Sociale – Soresina CREMONA – "MERAVIGLIA" tour 2013
Casinò of Venice – "FLIGHT" tour 2013
BIG CORPORATE EVENTS
Ducati Party– "World Champions Celebration" 2007
Flag Sponsor Torino 2006 Samsung – Courmayeur
Unicredit Banca – convention on the merge with Capitalia – Bologna 2008
Esso Italia – Granteatro Roma 2010
Dolce & Gabbana Jewels
Exide Gala dinner 2013
Philip Morris Party – Montecarlo 2013
AUTOMOTIVE
BMW – series 3 launch Roma and Milano
Fiat 500- 500 Romana Car presentation
Renault –New Twingo launch
Seat – IBIZA launch
Atlantis Yachts – Event at Cala dei Medici - "Meraviglia"
Grimaldi –Tenacia Ship launch
"Centronova" shopping centre – Bologna – inauguration of a new wing
"Freccia Rossa" shopping centre – Brescia – inauguration
"Le Vigne" shopping centre – Agrigento
"Navile" shopping centre – Bologna
"La Grande Mela" shopping centre - Verona
"City Park" shopping centre – Ljubiana Slovenia – new sector inauguration
TV
WATERSHOW 2006 – Rai Uno
SEI UN MITO - Canale 5
MISS MURETTO 2008 – Canale 5
TV MODA – Sky
FASHION TV – Rete 4
AMICI 2009 – Sigla serale – Canale 5 (11 installments...)
BIG INTERNATIONAL EVENTS
XI Opening ceremony Paralympics of Turin 2006
Closing Gala of "Euritmica" - Turin 2008
Presentation of the new "Pirelli" Calendar – Rio de Janeiro (Brasil) 2012
EWB Event – Dubai (UAE) 2009
Rolex Cup - Saint Tropez (France) 2007
Azimut Yachts - Nautical Fair of Miami (USA) 2008
Oaka Stadium – Athens – Greece 2010
Palais De Festival – Cannes (France) 2011
OM Truck Elevators – Hannover Fair - Germany
Municipality of Milano –Ambrosian Carneval 2008 "Meraviglia"
Municipality of Torino – New Years Eve 2009 – "Meraviglia"
Lombardia Region – Pirelli Tower Event - May 2009
Sanremo Casino – 2011 "OSA"
Municipality of Rimini – 2011 – NOTTE ROSA – "OSA"
Municipality of Senigallia (Marche) – NOTTE DELLA ROTONDA 2011
Municipality of Asti - Festival Asti Teatro 2009 – "Meraviglia" – June 2009
Municipality of Vicenza–Celebration for the 500 years of Palladio2008 - "Osa"
the Bridge on the Sea – December 2009
THEATRES
Teatro della Concordia – Venaria Reale (TO) –"Meraviglia " preview
Teatro Margherita – Caltanissetta – Med Moda 2005
Teatro Verdi – Cesena
Teatro Goldoni – Livorno – "Meraviglia" – tour 2011
Teatro EuropAuditorium – BOLOGNA – "Meraviglia" – tour 2011
Teatro Comunale – Teramo – "Meraviglia" – tour 2011
Teatro Team – Bari - "Meraviglia " tour 2012
Teatro Marchetti – Camerino (MC) – "Meraviglia " tour 2012
Teatro Bellini – NAPLES - "Meraviglia a Teatro" tour 2012 – 6 replies
Teatro Nuovo – MILAN - "Meraviglia" tour 2012 – 6 replies
Arena "Eleonora Duse" – Chioggia (Venise) – "Meraviglia" tour 2012
Teatro Brancaccio – Roma – "Meraviglia" tour 2013
Teatro Sociale – Trento – "DUUM" tour 2013
Teatro EuropAuditorium – Bologna – "DUUM" tour 2013
Teatro Duni – Matera – "DUUM" tour 2013
Teatro della Fortuna – FANO – "DUUM" tour 2013
Esso Italia – Granteatro Roma
Ferrari Party – 2010
Versace – launch of the VJC 2008 collection
Adriatic LNG for Qatar 2010 – Theatre "La Fenice"
Harley Davidson – Convention
EuroMedLab Convention – Castel of MILAN 2013
Linde Reveal 2013
Audi – Q5 launch
Fiat 500 – Motorshow 2007 - 500 voted car of the year
Mercedes –Mercedes R presentation
Saab - Roma
Ssang Yong – Actyon launch
NAUTICAL
Atlantis Yachts –Yacht 54 e 50 x 4 launch - Nautical Fair in Genoa 2008
Rimini Yacht – Marinara (RA) – "Meraviglia"
SHOPPING CENTRES
"Cortelombarda" shopping centre
"Le Grange" shopping centre – Cassino – inauguration
"Mongolfiera" shopping centre - Taranto– inauguration
"Officine Minganti" shopping centre – Bologna – inauguration
"Forum" shopping centre – Palermo – Inauguration
CULTURA MODERNA 2007 – Canale 5
VELINE - Canale 5
LA FATTORIA - Canale 5
LA BOTOLA 2008 – RAI UNO
CAPODANNO 5 - Canale 5
GALA DELL' OSPITALITA' 2008 – Rai Uno
XX Closing Ceremony Turin 2006 – section of the "two steps on fabrics"
Idea Articles Related To Flying Acrobats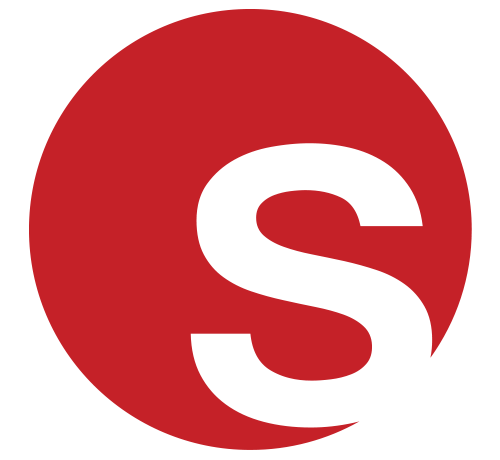 Got Talent The Champions: Our Favourite Talent Show Acts Across The World
Got Talent The Champions: Our Favourite Talent Show Acts Across The World
Grace Henley
|
31/10/2019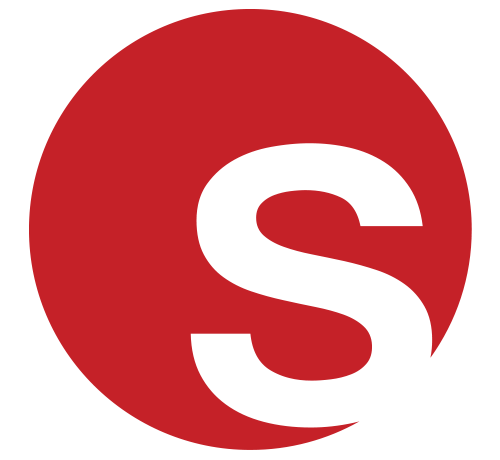 Acts Fit for Royalty: Wow Guests with our Royal Variety Performers
Acts Fit for Royalty: Wow Guests with our Royal Variety Performers
Grace Henley
|
17/04/2019