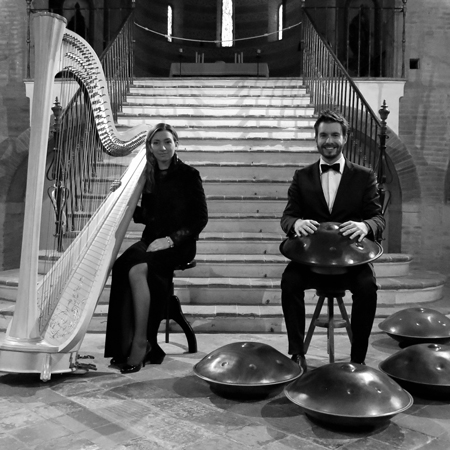 Harp & Hang Instrumental Duo
Fantastic harp and hang duo will captivate guests with their unique and beautiful music
Sweet and lyrical harp music in Celtic and classical styles will enchant guests
Ethereal hang music creates otherworldly sounds and exotic tribal rhythms
Harp and hang music creates an enchanting and meditative atmosphere perfect for classy events, corporate functions and dinner parties
Unforgettable instrumental duo available for events worldwide
Book our fantastic harp and hang duo for a unique and captivating musical performance at your event. This incredible instrumental duo creates a breathtaking and ethereal sound that will leave guests spellbound, creating a riveting and magical atmosphere at any event. Guests will be entranced by this harp and hang music which creates an exquisitely beautiful combination of sounds, blending the two magnificent instruments into a distinctive and unforgettable musical performance.
This extraordinary duo blends lush Celtic harp music with the otherworldly tribal rhythms and resonant sounds of hang music, creating a meditative and soothing sound that feels vibrant and totally unique. Book this fantastic instrumental duo for events, dinner parties, and performances and treat your guests to a truly one of a kind performance they won't soon forget.
Our sensational instrumental duo is touring all over the world, enchanting audiences with their dreamlike and majestic harp and hand music. Our harp and hang duo have performed in Beijing, Venezuela, France and brazil, dazzling audiences at festivals, conferences and performances. 
This incredible duo combines the delicate classical voice of harp music with the warm and Mediterranean feel of hang music to create a mesmerising musical journey that transcends countries and genres and leaves guests in awe. A unique fusion of different sounds is beautifully melodic and the graceful, floating rhythms will stay with audiences long after the performance is over.
This wonderful harp and hang music is ideal for creating a relaxing space at events, festivals, weddings and any event where you want to bring a unique and captivating sound to your guests.
Scarlett Entertainment offers you a great range of harpists and unique instrumental groups to enchant audiences. 
Contact our team to book our fantastic harp and hang duo or one of our brilliant acts.
Saint Etienne Festival Les Roches Celtiques
Arpa Fest
Rio Harp Festival
International Conference of the International Association for Music