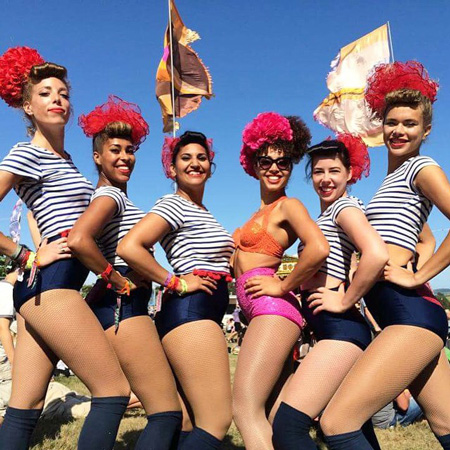 Hula Hoop Troupe
Bespoke hula hoop shows and choreographed routines from award winning hoop troupe
Act can appear as if from nowhere and flashmob events
Can perform anywhere, indoors and out, for custom lengths of time
Hold Guinness World Record for most hoops spun by a group of 10
London-based act available for bookings worldwide
Book our hula group for astonishing hula hoop walkabout entertainment. This hoop act pop up show can offer customised performances suited directly to your event and have graced stages for clients such as the London Olympics, Kenzo and more. 
These talented females can do some hooping that takes the skill to a whole new level. A well as being able to spin a truly baffling number of hula hoops, they can also perform on roller skates - high-heeled roller skates no less - and combine the fun of the 1950s in a way that will engage and impress guests and delegates of all ages. 
Their choreographed routines have a tongue-in-cheek charm straight from a 1950s diner, with costumes including the headscarves and button-down shirts of the Rock n Roll era. Creating amazing patterns with multiple hoops as soloists within an ensemble, and then combining the group into a large structure of hoop madness, the hoop act do more than just spin hula hoops.
The group is also underpinned by a belief in the power of fun that hula hooping can bring. Aside from amazingly choreographed stage shows, they run workshops for participants of all ages to share their joyous, carefree skill. They believe that anyone can hoop, and that doing it brings people together and puts smiles on everyone's faces.
And they're right; their audiences love them and they are in demand as a hoop troupe. As well as the hoop act, they can offer their aforementioned roller-skating act in addition or separately and skipping acts. 
The group are perfect for workshop bookings at kids' parties, schools, corporate team-building and just to get people moving whatever the occasion! As performers, and thanks to the customisation options they provide, they can be suited to a huge range of events. Their previous experience shows their diversity and are brilliant as a stage show or walkabout entertainment. 
To book this pop up show hula group, contact our team of dedicated event coordinators today.
Kenzo
Gloanna
London Olympics
Jamie Oliver's Festival
Skate KX
Kate Nash