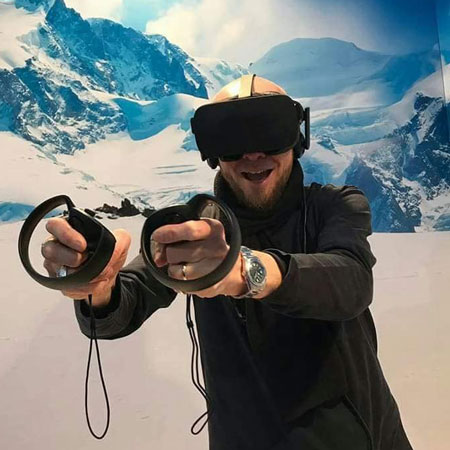 Immersive Reality Experiences
Develop immersive virtual reality entertainment applications for Oculus, Cardboard, and many other devices
Create exciting 360 content including videos and photos for editorial and promotional use
Build bespoke environments and immersive games with VR for events
Make custom cardboard viewers for accessible virtual reality entertainment at trade shows, corporate events, launches, special events and more
Based in Rome, Italy, our Immersive Reality Experiences are available for international bookings
Immersive Reality Experiences PHOTOS
Push your brand to the next level and create exciting, engaging marketing tools using our immersive reality experiences that specialise in VR for events. 
Our virtual reality specialists will help you realise your vision using virtual entertainment by developing immersive virtual reality applications for Oculus, Cardboard, and many other devices. 
Send your guests to faraway lands, explore virtual environments, discover products, or play in an innovative and fun way with VR for events. 
Also able to create stunning 360 content including videos and photos, our virtual reality specialists will use the latest filming techniques to capture your event, product, service or experience in impressive 3D. 
Marketing is always looking for disruptive activities to capture customers' imaginations and emotions. 360 content, be it photos or videos, offer a fantastic disruptive and engaging tool for commercial, editorial or advertising use.
Whether sending guests down a virtual ski slope, speeding around a racing track, discovering new products, or playing an immersive game, this virtual reality entertainment is perfect for trade fairs, brand activations, product launches, PR stunts, campaigns and much, much more.
Looking to create VR experiences on a large scale? Why not create personalised cardboard viewers for the perfect low-cost device that allows everyone access to virtual reality. With endless brandable options, cardboard viewers are an easy to use and fun gadget for large audiences. Ready to use or assembled in just a few moments, the user only needs to enter their smartphone into the cardboard device and start their virtual reality experience! 
Scarlett Entertainment offers a wide range of VR for events in Europe, the US, Asia and beyond. Discover more virtual reality entertainment and take inspiration from our roster of virtual reality acts.
To find out more about how our Immersive Reality Experiences can help you deliver an exceptional experience, get in touch with our team of Entertainment Experts who will be able to help and advise.