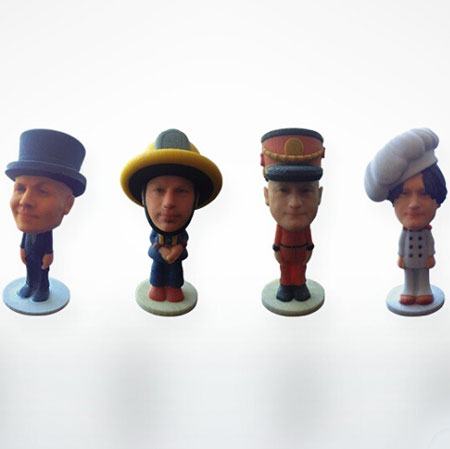 Make Me A Bobble Head
Create personalised bobble head figurines with your face on it
3D booth can be transported to your event or location
Customisable and personalisable with over 300 options
Figurines can be printed with company branding
Based in Dubai and available throughout the UAE
Make Me A Bobble Head PHOTOS
The Dubai 3D figurines are an exceptionally fun concept available as a fun present or a superb corporate gift or even branding opportunity. Far more exciting than a regular photo, a personalised bobble head is something guests can proudly display and the 3D booth is fun to operate with multiple options to chose from to make your figurine stand out.
Make Me A Bobble Head can come to your event or location of choice with it's easily transportable 3D booth kiosk and set up without requiring too much space. Attendees are invited to the 3D booth where a scan of their face only takes 3 seconds. Make Me A Bobble Head then creates an image of the guest's face which can be customised to fit various designs and themes with over 300 options to choose from the head to the body. The process of creating a virtual personalised bobble head takes around 5 minutes.
Themes include:
- Wedding (Bridge & Groom - Cake Toppers)
- Animals
- Jobs
- Cowgirl, Astronaut, Knight, Cleopatra / Egyptian
- Sport: football, skiing, tennis, golf,  cycling, running, hockey, snowboarder, diver, basketball
- Christmas
- Halloween
- Caveman, Viking
Our Dubai 3D figurines are not created on site, instead Make Me A Bobble Head take the scans back to their HQ and post them out once finished, usually within two weeks of being in the 3D booth. Make Me A Bobble Head can customise the figurines and make them an ideal corporate gift. The Dubai 3D figurines can be branded with names, slogans or company names on the base.
Booking Tips:
• Easily transportable 3D booth
• Choose a theme for your bobble head 
• Customise with logo or branding
Get in touch with our entertainment coordinators at Scarlett Entertainment to book Make Me A Bobble Head for your event.