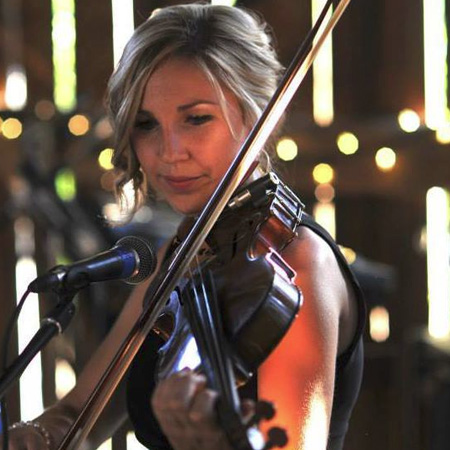 Violinist Toronto
Solo violinist adds a beautiful atmosphere to any event
Recorded with numerous artists including Platinum Blonde
Huge set lists includes classical, pop and Folk music
Can perform as part of a violin duet, violin/cello & violin/guitar duet
Based in Toronto & available to perform at events throughout Canada
Brooke has been playing the violin for over 20 years. She began her studies at the age of five and in 2010 she graduated from Memorial University of Newfoundland with her Bachelor Degree in Music Performance.
Brooke began playing in orchestras at the age of 15 and served as the Assistant Concertmaster of the Newfoundland Symphony Orchestra and Newfoundland Sinfonia in their 2010-2011 seasons. She has performed orchestral works in Canada, Russia and Poland, and in 2011 travelled across Canada performing with up and coming indie-rock band, Hey Rosetta! She has recorded with numerous artists including Platinum Blonde, and enjoys collaborating with musicians of all styles and genres.
Weddings
Brooke has a passion for making weddings a memorable experience and has performed at over 100 weddings since the age of 18. Brooke loves being part of this special day and takes great care in making it a beautiful and stress free experience for her clients. 
Solo violin can add a beautiful atmosphere to any event. Brooke performs solo violin at many weddings and is able to accommodate requests for violin duets, violin/cello duets, and violin/guitar duets.
Canon in D – Pachabel
Here Comes The Bride - Wagner
Air on G – Bach
Ave Maria – Schubert
Salut D'Amour – Elgar
Meditation – Thais
The Wedding March - Mendelssohn
Arioso – Bach
Inermezzo from Calvaiera Rusticana - Mascagni
Bist Du Bei Mir – Stolzel
Sheep May Safely Graze – Bach
Joyful Joyful We Adore The – Beethoven
Jesu Joy of Man's Desiring – Bach
How Great Thou Art
Spring - Allegro Moderato (from the Four Seasons) – Vivaldi
Winter - Largo (from the Four Season) – Vivaldi
Hornpipe (from Water Music) – Handel
Minuet in G – Beethoven
Minuet – Bocherini
Trumpet Voluntary – Purcell
Trumpet Tune - Purcell
Serenade – Haydn
Humoresque – Dvorak
Eine Kleine Nachtmusik
Rondeau – Mouret
La Rejuissance - Handel
CLASSICAL SELECTIONS
Fix You – Colplay
Paradise- Coldplay
You Raise Me Up – Grobin
A Thousand Years – Perri
The Prayer – Celine Dion
Lighters – Bruno Mars and Eminem
Somewhere Over the Rainbow
When You Say Nothing At All – Krauss
Viva La Vida- Coldplay
What a Wonderful World - Armonstrong
Fields of Gold – Sting
You're Beautiful – James Blunt
Hallelujah – Cohen
Hallelujah - Paramore
FIDDLE/FOLK SELECTIONS
The Parting Glass
Irish Gigs/Reels
Ashoken Farewell
Amazing Grace
MacDougall's Pride – Ashley MacIsaac
Mary's Wedding
The Wedding Gift – Rawlin's Cross
The Star of County Down
Westphalia Waltz
To a Wild Rose – MacDowell
Red Is the Rose
POP TUNES
" We can't think you enough for being such an important part of our ceremony Brooke! It was absolutely wonderful. "

MM, Toronto, ONDecember 2013
" Thank you so very much for playing so wonderfully at our wedding on Saturday. I loved walking down the aisle to Canon! Thank you again for making our day so special. It couldn't have been better! "

KM, Peterborough, ONOctober 2013
" Brooke, Can I just say you were fabulous!!! You were prompt with your emails and was very punctual. I will fully recommend you. You played the music beautifully and helping me with choices of music during a hectic time was very thoughtful on your part. Thanks Brooke, it was a wonderful experience!!!! "

MM, Peterborough, ONAugust 2012
" Thanks for the wonderful entertainment on Saturday afternoon. It was great to have you there playing, we really enjoyed it. "

JD, Peterborough, ONFebruary 2012
" Myself and my beautiful wife Yulia wanted to have our special song when she walked down the aisle. And we thank you so much that you learned it without hesitation and also paired it with a great cellist to make it sound even better! We'll play this song on each of our anniversaries and it will remind us of how great you played it in the chapel. Thank you again! "

EB, Toronto, ONJanuary 2014