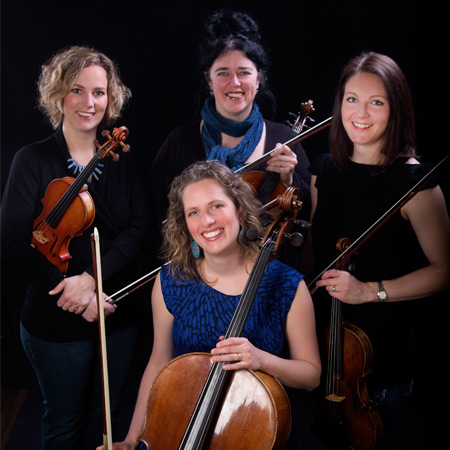 Lily String Quartet
A dynamic, female chamber ensemble dedicated to excellence
All members hold a position in the top tier of Canadian musicians
Bring together their experience to produce a unified and tantalising sound
Collaborate with jazz trios, choirs, indie-rock groups and other musicians
Based in Canada and available to perform at events worldwide
Lily String Quartet PHOTOS
Lily String Quartet is a dynamic chamber ensemble dedicated to excellence. This Canadian quartet was formed in 2005, and is recognised by audiences and critics alike as a top ensemble of Western Canada. This bilingual quartet is comprised of Elisa, Diane, Patricia and Andrea, all of whom hold a position in the top tier of Canadian chamber musicians.
Whether from the Alberta prairies, the city life of Calgary, or the beauty of Québec City, these women have brought together their varied experiences to produce a unified and tantalising sound. With the members of String Quartet Canada having individually trained at North America's premiere universities and conservatories, they have a wealth of knowledge and experience that enriches the quartet.
The String Quartet performs regularly in Calgary and beyond. The 2013/14 season included a recital performance for The Instrumental Society of Calgary, collaborations with piano, bass and harp and concerts in both Alberta and BC. Past concert work has included performances for the CBC, Sled Island Festival, The Lake Louise "Ice Magic" Festival, The Banff Centre, One Yellow Rabbit Theatre's High Performance Rodeo and New Works Calgary.
A hallmark of their work is collaboration; the group members have performed with a jazz trio, multiple Calgary-area choirs, music programs, schools, Indie-rock groups, folk performers and an accordion player, just to name a few.
They were invited to seminars at Juilliard School and Stanford University and performed in and helped develop an original musical with folk artist Lullaby Baxter. The group toured Alberta with the Hutchinson Andrew Trio in the spring of 2013, Eastern Canada in the fall of 2012 and Western Canada in 2008; String Quartet Canada has performed both in concert and at educational outreach programs in seven out of ten Canadian provinces.
A Thousand Years - Christina Perri
All You Need is Love- Lennon/McCartney
At Last – Etta James
Beautiful Dreamer - Foster
Beauty and the Beast - Menken
Bittersweet Symphony - The Verve
Blue Moon - Rodgers
Cabaret - Kander
Can't help falling in love – Elvis
Can't Take My Eyes off of You - Four Seasons
Caravan - Ellington
Carrickfergus - Traditional
Circle of Life - The Lion King
Clocks – Coldplay
Daydream Believer - The Monkees
Don't Stop Believin' - Journey
Edelweiss - The Sound of Music
Eleanor Rigby - The Beatles
Falling Slowly – Glen Hansard
Forest Gump – Main Theme
From This Moment On - Shania Twain
Gabriel's Oboe – The Mission
Get Me To The Church On Time - My Fair Lady
Girl From Ipanema - Jobim
Happy Together - The Turtles
Hedwig's Theme- Harry Potter
Ho Hey- The Lumineers
How Sweet It Is (To Be Loved By You) - Marvin Gaye
Hushabye Mountain - Chitty Chitty Bang Bang
I Dreamed a Dream - Les Miserables
I Only Have Eyes For You - Warren
I'm A Believer - Neil Diamond
I'm Yours - Jason Mraz
In a Sentimental Mood - Ellington
In My Life - The Beatles
It Had to Be You - Jones
It's Only a Paper Moon - Arlen
James Bond Theme
La Vie En Rose - Edith Piaf
Let It Go - Frozen
Look of Love - Hamlisch
Love Me Tender- Elvis
Magnificent Seven
Memory - Cats (Lloyd Weber)
Moon River - Mancini
Nobody Does it Better - Hamlisch
Pop Jazz & Broadway:
Bach Air on the G String
Bach Aria
Bach Arioso
Bach Concerto #3 "Brandenburg"
Bach Double Violin Concerto
Bach Jesu Joy of Man"s Desiring
Bach Loure from the Cello Suite in C
Bach Sheep May Safely Graze
Bach/Gounod Ave Maria
Beethoven Menuett from the Septet
Bizet Habanera (Carmen)
Bizet The Toreador's Song (Carmen)
Boccherini Menuett
Borodin Nocturne from String Quartet No. 2
Brahms Theme from 1st Symphony
Brahms Hungarian Dances #1 4 and 5
Campra Rigaudon
Clark Trumpet Voluntary
Delibes The Flower Duet
di Capua O Sole Mio
Dvorak Humoresque Op. 101 No. 7
Dvorak Slavonic Dances Op. 46 #2 & 8 Op. 72 #2
Elgar Nimrod
Emmett Dixie
Faure Pavane
Franck Panis Angelicus
Gates If
Gershwin Embraceable You
Gluck Minuet
Handel Entrance of the Queen of Sheba
Handel La Rejouissance
Handel Water Music Suite: Air Bouree Hornpipe and Finale
Handel Where'er You Walk
Joplin Entertainer
Classical: